DE Kendall Futrell Hopes to See Defensive Improvement at ECU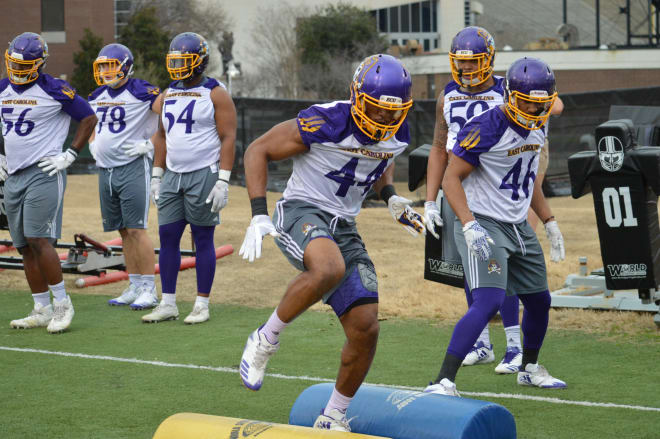 As spring camp crawls toward its eventual conclusion on Saturday with the playing of this year's spring game, ECU defensive end Kendall Futrell continues to put in a boat load of effort to continue his process of improvement.
He is also hoping for the best for his teammates on the defensive side of the football to continue their maturation process under new defensive coordinator David Blackwell.
"I just want to see the defense come together and have a good day for both sides of the ball really. Especially for the defense because thats what side that I play," Futrell said on Wednesday.
"I feel like we've come since the beginning of the spring learning a new defense. I feel like we did a good job of just coming in and working hard and just learning it as good as we can."
The Pirates didn't have their best hour when it came to defense last season. Futrell hopes that he and the guys on his side of the football can make up for that this season.
"We definitely want to show some improvement and I feel like we definitely will with this defense. With how good the guys have been playing I feel like we will show some improvement on Saturday."
With Rod Wright coming in this spring to coach the front four for the Pirates, that brings a new set of eyes from a guy who was an All-American at Texas and played in the NFL. That's good news for the former South Central star out of nearby Winterville.
"We've learned a lot of new high level techniques that are going to help me out on Saturdays and he's just doing a good job of teaching right now."
The 6-2, 240 pound defensive end looks noticeably bigger than he did last season and he talked about some of the biggest areas of his personal improvement as the summer period approaches both physically and as a defender.
"I've just been trying to work my tail off in the weight room as much as I can and its just paid off. Coach C has done a great job with his program and its paying off," Futrell told PirateIllustrated.com, "And really pass rushing. Just knowing how to pass rush. I've always been a fast guy but just learning where the quarterback is at and using new moves and stuff like that."
Futrell gave his overall outlook for the ECU defense when this fall rolls around and his junior season begins.
"I really like the defense right now. I grew up with a lot of these guys. We all came in with the 2016 class and it's our time to shine now I feel like."