Pirates Put Together a Top 20 Baseball Recruiting Class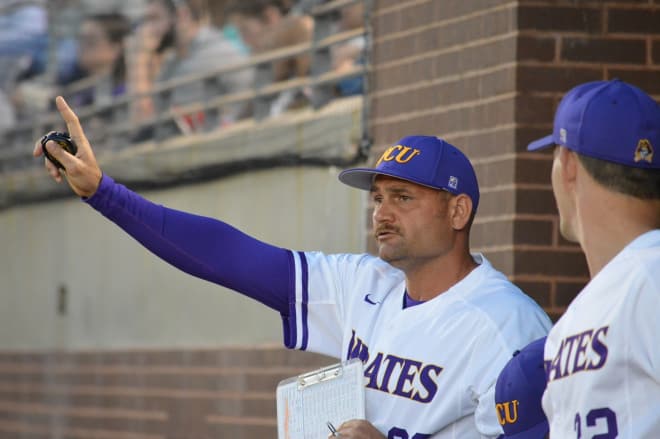 -ECU Press Release
GREENVILLE, N.C. – ECU baseball's 2017-18 recruiting class has garnered a No. 19 national ranking by Baseball Americathe publication announced Tuesday morning. This is the second-straight Top 25 ranking and first time in program history the Pirates have garnered back-to-back national recruiting classes after being tabbed No. 23 a year ago.
"Jeff Palumbo, our recruiting coordinator, Dan Roszel and our entire support staff have put together another exceptional incoming class," fourth-year head coach Godwin said. "We are excited about the talent, character, and competitiveness that this group brings to the program. This class will continue to represent ECU baseball in a first-class manner on and off the field, while taking the program to new heights!"
The 2017-18 recruiting class consists of two infielders (Connor Litton and Collin Watt), three outfielders (Chandler Jenkins, Josh Netterville and Jeremy Whitehead), two catchers (Seth Caddell and Spencer Smith), one utility player (Bryson Worrell), one two-way player (Alec Burleson), and seven pitchers (Zach Barnes, Cole Beavin, Austin Covers, Noah Jones, Jake Kuchmaner, Willy Strong and Gavin Williams).
During his three years at the helm of the program, Godwin has guided ECU to a pair of NCAA Regional berths, a Super Regional appearance, an American Athletic Conference Tournament title and a 110-72-1 (.604) overall record. Five players have earned All-America honors, five were named to the Charlottesville All-Regional Team, eight took home all-conference honors (eight first-teamers), nine were selected as American Player-of-the-Week, while three were drafted by Major League Baseball teams.
ECU begins its six-week, full-squad fall practice session on Thursday, Sept. 28 holding its yearly Scout Day on Friday, Sept. 29. The Pirates will scrimmage every Friday, Saturday and Sunday at Lewis Field inside Clark-LeClair Stadium leading up to their annual Purple & Gold World Series, which will be held Nov. 4-6 (times to be determined) and is free of charge to the fans.
The Pirates return 20 letterwinners, including 2016 Freshman All-American Dwanya Williams-Sutton, 2017 Freshman All-American Spencer Brickhouse and 2017 AAC All-Tournament Team selection Jake Agnos. In all, the roster consists of 11 freshmen, 10 sophomores, 11 juniors and four seniors.
What Baseball America Says About ECU's Recruiting Class
"The Pirates landed their first ever Top 25 class a year ago and return to the rankings this year with another strong group of newcomers headlined by Williams and Smith.
Williams is big, projectable and has frontline starter upside. He has an easy delivery and has already touches 95 mph, giving some the belief that he could eventually hit 100. His curveball still needs work, but he has made strides with his pitchability and should be ready to immediately take on a role either in the Pirates' rotation or at the back of their bullpen.
Smith has plus raw power that fits well in the middle of the order. He needs to cut down on some of his swing and miss and refine his defense behind the plate, but his athleticism gives him a chance to make the necessary improvements in both areas.
Caddell is also an offensive catcher with a strong arm, and, like Smith, has the versatility to play in the outfield to get his bat in the lineup. Jenkins fits best in an outfield corner and was named the Division II junior college player of the year after hitting .460/.516/.868 with 18 home runs.
He has a smooth swing and can drive the ball to all fields. Litton and Watt will likely battle to take over at third base for the Pirates.
Watt has more upside and projects to have solid power once he fills out his frame to go with good defensive tools.
Litton is more experienced and offers right-handed power from his physical frame.
Netterville won three events at Maryland's state indoor track finals last winter and has an intriguing set of raw tools. He and Jeremy Whitehead give the Pirates a pair of speedsters in the outfield.
While Williams is the standout on the mound, Beavin, Burleson and Kuchmaner are all solid college arms. Beavin offers some projection, but is presently more about pitchability and has big-game experience. His fastball sits in the upper 80s and he has a good feel for his breaking ball. Burleson and Kuchmaner are solid lefthanders who have a good feel for their craft and have a winning mentality."