22nd Ranked Cincinnati Takes a 55-46 Win over ECU on Sunday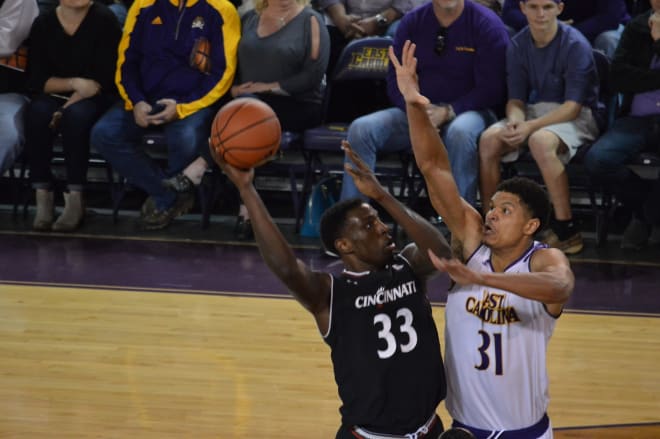 GREENVILLE - East Carolina played a solid defensive game but their inability to hit shots at key times allowed Cincinnati(15-2/5-0 AAC) to maintain a double digit cushion despite having a poor shooting night and take a 55-46 win in Minges Coliseum Sunday afternoon.

Kyle Washington scored 16 and pulled down 11 boards and Jacob Evans added 10 points to lead Cincinnati while freshmen Elijah Hughes with 18 and Jeremy Sheppard with 13 led the Pirates in scoring.
"I told my team that I was proud of them and proud to be their coach tonight. They battled awfully hard. We executed defensively our game plan, executed offensively against a good team but just couldn't put the ball in the basket again," said ECU head coach Jeff Lebo who will now prepare for hip surgery on Monday. Lebo says he doesn't know when he will return.
Gary Clark and Keven Johnson helped Cincinnati take a quick 7-0 lead the slow starting Pirates. Elijah Hughes lobbed in a pair of three-pointers and Jeremy Sheppard came into the game and scored on a pair of drives to the basket to keep ECU in a close 13-10 contest.
East Carolna took their only lead of the game on another trey from Hughes with 10:50 to play before baskets from Justin Jenifer and Gary Clark found the Bearcats up by three with 7:20 to play before halftime. Hughes tied the game at 21 with 3:44 in the period. But three Troy Caupain baskets gave Cincinnati a commanding 29-21 lead and Kyle Washington's free throws had the Bearcats up 31-21 at intermission.
Hughes led the Pirates with 16 first half points while Kyle Washington scored 10 and Troy Caupain had eight for Cincinnati who held ECU to 24 percent shooting in the first twenty minutes.
ECU pulled to within eight on a couple of occasions on a pair of circus drives from point guard Jeremy Sheppard in a 37-31 contest with under 13 minutes to go. But the Pirates went cold while Gary Clark, Jacob Evans and the Bearcats opened up a twelve point 49-37 lead at the five minute mark despite just 33 percent shooting and just 2 for 12 from the arc. Cincinnati held on down the stretch for a nine point victory.