A&T State Stuns ECU 28-23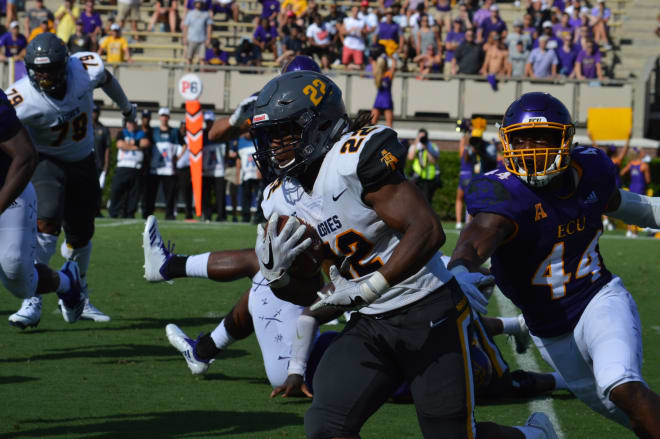 North Carolina A&T(2-0) scored points in every quarter but the third and did what they're known for and that's finding ways to win ballgames. They did it again on Sunday in a 28-23 victory over an ECU team that is still trying to find a way to beat anybody at the moment.
The game that was postponed Saturday night due to rain and lightning in the Greenville area was played on Sunday in Dowdy-Ficklen Stadium.
ECU(0-1) got on the scoreboard first on a 22-yard Jake Verity field goal and were threatening to score again when a Reid Herring missed a receiver in the end zone that resulted in a 99-yard Franklin McCain pick-six touchdown that turned what would have been an early 10-0 lead into a 7-3 deficit.
"I just made a bad throw. It was behind the receiver and I should have led him more. You know that was a big play and it probably cost us the game. I've just got to be smart with the football," said Herring afterward.
Herring described how he felt after ECU's second straight loss to an FCS school to open the season after falling to James Madison on opening day last year.
"It's very disappointing. It's a tough feeling coming back into that locker room after losing the home opener. I didn't play well enough, we had chances to make plays and I didn't make them," Herring said, "It definitely stings and it definitely hurts."
Herring did throw for a personal collegiate best 304 yards on 36 of 61 passing in his first start as a Pirate despite a pair of interceptions and his longest completion of the day was just 25 yards. Meanwhile, Aggie starter Lamar Raynard went 10 of 20 through the air for just 94 yards and a touchdown before Kylil Carter came on late to complete 7 of his 9 passes for 93 more yards and two touchdowns.
Overall, ECU had 382 yards of total offense on 95 plays to just 269 on 60 plays for the Aggies. But once again, despite not putting up big numbers throwing the football or running it, the Aggies found a ways to keep ECU out of the end zone just like they did last week at Jacksonville State.
First year Aggie head coach Sam Washington summed it up afterwards on how he felt after one of the biggest wins in his program's history.
"Fantastic and I'm proud. I'm a proud coach, a proud parent. Those kids bust their butts. They believe start to finish. They persevere," said Washington, "We knew that adversity would come. I tell them all the time that it's not about adversity, it's about how you handle adversity. I thought they did a very fine job of it today."
The Pirates managed to take a 17-14 lead into the locker room at halftime on a pair of short Reid Herring touchdowns to Blake Proehl and Deondre Farrier and an early Jake Verity 22-yard field goal a little over four minutes into the contest. But a 12-yard Lamar Reynard strike to Zach Leslie kept the game closer than it would have been otherwise and ECU knew going into the locker room that the Aggies weren't going away.
When ECU was unable to score a touchdown in the red zone midway into the third quarter, ECU had to once again settle for a field goal that gave the Pirates just a mere six point cushion.
Then Leslie caught his second touchdown of the game, this time a five yarder from Kylil Carter who came on at quarterback to give A&T the lead at 21-20 just thirty seconds into the fourth quarter.
ECU continued to have issues getting the ball into the end zone despite having a few good chances and a 17-yard Carter to Elijah Bell strike with 7:05 to play put the Aggies out in front for good at 28-23.
The Pirates had a chance in the last two minutes of the game but had to burn all of their timeouts on defense and had difficulty moving the chains in order to score the winning points. Washington talked about what he told his defense on the final ECU drive.
"Just don't let anybody get behind you. It's that simple," Washington said, "Just keep everything in front of us and we'll have a chance."
ECU head coach Scottie Montgomery who has won just six games in two seasons at the helm now finds himself on the hot seat but he remained calm despite being clearly disappointed in the outcome of the game.
"After long time of preparation this is definitely not the finish that we thought we would have. We really, really mismanaged the last few downs of the game," said Montgomery, "We had the plays that we wanted called, we had people leave the field. We've been in two-minute drills too many times where we work exactly what we want to do."
"A lot of credit goes to North Carolina A&T. I thought the transition of their quarterback there at the end gave us some problems offensively. Defensively we didn't execute. I thought our quarterback started off good and down the stretch we didn't execute. All and all you can't finish football games like that."
"I am more than disappointed," said Montgomery, "We had a receiver leave the field on a two minute drill and it's just no words what happened there in the second half. Our quarterback didn't necessarily play well the whole second half, but he had a lot, it wasn't just him it was all of us. We got out played and we got out coached. It's just a really really bad feeling."
6-4 senior receiver Terrell Green had a career day catching the football for ECU with ten catches for 95 yards to go along with nine catches from first timer Blake Proehl for 65 yards. ECU prime receiver Trevon Brown added seven catches for 57 yards.
Defensively, Franklin McCain had ten tackles to lead A&T State to go along with nine from Jamaal Darden and seven stops from both Darryl Johnson,who added a sack, and Antoine Wilder.
Senior defensive end Nate Harvey led the Pirates with eight tackles including four for a loss to go along with six from defensive back Devon Sutton and six more from linebacker Bruce Bivins in his first career start.
"Right now there are a whole lot of leaders in the locker room keeping our heads up," said Harvey, "We're going to be fine."
The Pirates find themselves on a short week now with UNC coming to town next Saturday for a 3:30 contest on ESPN U.
PirateIllustrated.com was there after the game to bring you Scottie Montgomery's post game press conference along with ECU player reactions.
SCOTTIE MONTGOMERY'S POST GAME PRESS CONFERENCE
ECU PLAYERS REACT AFTER THEIR OPENING DAY LOSS TO N.C. A&T