Ahlers & Harvey Collect AAC Weekly Honors & Coach Mo Talks Cincinnati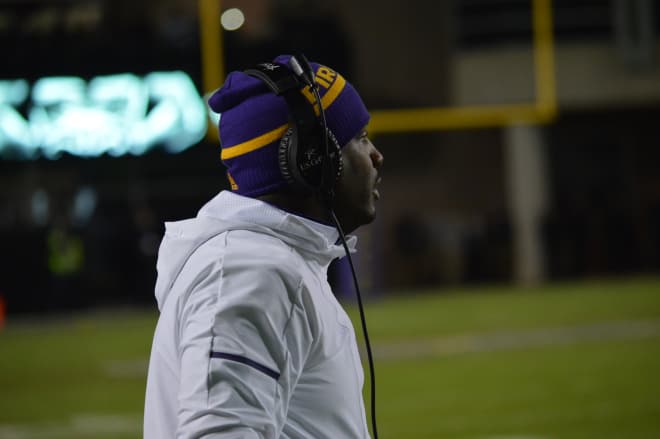 ECU head coach Scottie Montgomery on Monday talked about the play last Saturday of his seniors who put on a great Senior Night performance in ECU's first AAC win of the year against UConn.
Guys like wide receiver Trevon Brown, offensive lineman Garrett McGhin, Anthony Scott at running back, Nate Harvey at defensive end, Marcus Holton, Corey Seargent and Devon Sutton in the defensive secondary who have had memorable careers in an ECU uniform.
"First, it was great to get a big time win on Senior Night for our seniors. We had such great contributions from our seniors. Whether it be Nate Harvey, Garrett McGhin and Ray Tillman. Those guys just played extremely tough and hard all night," said Montgomery, "We don't have very many seniors on the field playing a lot of snaps, but the ones that we had in the game, we have to take our hat off to the way they played throughout the game. I thought Anthony Scott had major contributions throughout the game. All over the field, there were major contributions to our football team from our seniors."
Montgomery credited the play of so many freshmen like quarterback Holton Ahlers, wide receivers Tyler Snead, Blake Proehl and Leroy Henley, Gerard Stringer at nickel back, Peyton Winstead at center and Xavier Smith who has moved to tight end and is expected to start on Friday among others.
"The flip side of the coin is the way that our freshmen played. I looked at the tape. I don't like to talk about freshmen too much, but (Tyler) Snead had just a fantastic game. We had a lot of guys contributing for the first time and some guys contributing as true freshmen," Montgomery stated, "Some of the names that come up, (Gerard) Stringer played really well. (Damel) Hickman played well. Leroy Henley, Xavier Smith, Blake Proehl, Peyton Winstead, Daniel Charles, Nolan (Johnson) and Myles (Berry). The reason why I bring these guys up is because after the game, a lot of our seniors were talking about the freshmen. They called on the freshmen, they called on the sophomores and juniors to come and help them have a complete Senior Day. So, I was glad we were able to support them in a major way.
Montgomery also announced that Snead will be on full scholarship starting next season.
ECU quarterback Holton Ahlers and defensive end Nate Harvey were been named American Athletic Conference Offensive and Co-Defensive Players-of-the-Week respectively, league officials announced Monday morning.
Ahlers led ECU to a season-high 657 yards of total offense (415 rush, 242 pass) and accounted for five touchdowns, four of which were through the air in a 55-21 win over Connecticut. The true freshman had 372 yards of total offense and the first 100-yard rushing game by an ECU starting quarterback since David Gerrard in 2000 on a team-high 130 yards on 12 carries (10.8 ypr).
Harvey had five tackles and three sacks to go along with a forced fumble and a fumble recovery against UConn. It was his player of the week honor this season. His three tackles for a loss. That gives him 24 for the year which broke Chris Moore's ECU record of 21. He also surpassed Ed Oliver's sack record of 23.
His 13.5 sacks ia 1.5 shy of Rod Coleman's single season record of 15 and one short of the AAC record of 14.5 set by Louisville's Marcus Smith in 2013. Harvey leads the FBS in total TFLs, TFLs per game (2.4) and sacks per game (1.35), while standing second in total sacks.
Montgomery also mentioned the guys you have to be mindful of on defense for the Bearcats like Kimani Fitz and Michael Pitts at the defensive ends that jump on on tape as two of the best defenders in the league in today's ECU weekly coach's press conference.