Anderson Looks to Shine in 2017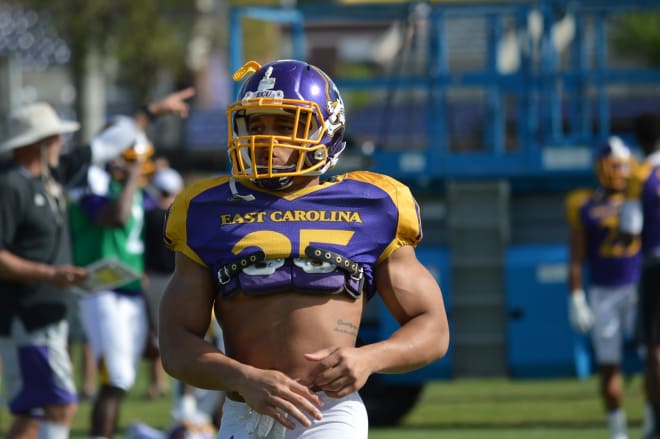 Rising junior Devin Anderson showed flashes of greatness last season. He comes into this season with high hopes but mostly just wants to be consistent.
"Everybody is coming in everyday and competing hard. Everybody is pushing everybody to do our best so it's all good," Anderson told PI on Monday.
The things he is working on are mostly fundamental aspects of being a running back in the East Carolina system.
"Just reading everything like blocks, being patient and knowing when to cut, when to press and all of that so that's the main thing," said Anderson.
The compact 5-9, 208 pounder is in his fourth year overall so he knows the ropes. He got considerable playing time last season, playing in eleven games racking up 258 yards on just 57 carries for a 4.5 yard per clip average. His longest run was for 28 yards and he also pulled in nine receptions out of the backfield for 62 yards.
"This is my fourth year coming up in here, so that's part of the business. Coaches coming in, men coming in, everything changes. The offense changes. That's part of the business so just getting in, adapt and hop on board, it's all good."
We asked ECU offensive coordinator Tony Petersen to size up Anderson's work thus far this spring.
"Devin Anderson is taking care of the football, making probably the most consistent decisions back there," Petersen told PirateIllustrated, "He hasn't really busted pass protection which is huge for us because we've got to be able to do that. I'm happy with where Devin is at right now. I'd say he's our strongest guy in the backfield, physically."
Anderson says the offense hasn't changed very much this year so it's mostly a matter of just getting better at what the Pirates do when they have the football.
"Polishing everything up. Everybody being sound together. That's the main thing, everybody just has to hit it off. Just come in every day and be perfect on the same stuff," said Anderson.
With just four workouts remaining in this spring's ECU football camp, time is short before a pretty long wait until fall practice begins.
"It's been flying by. The weather has been great. Today (Monday) was probably the hottest and the coldest was probably last Friday so it's been kind of flip flop," Anderson said, "It's been perfect weather, so after spring ball we're just going to train and stuff, summer school and after that camp and the fall comes and we'll get the season rolling."
We asked Anderson to gage his progress and if he is where he thinks he needs to be thus far and what he hopes to accomplish in the time remaining.
"No, as far as footwork wise and agility, cuts and and all of that, I still have a long way to go myself. Right now my best skill is running hard. Hard nosed."