Andrien White Scores 30 Points to Lead Charlotte Past ECU 69-50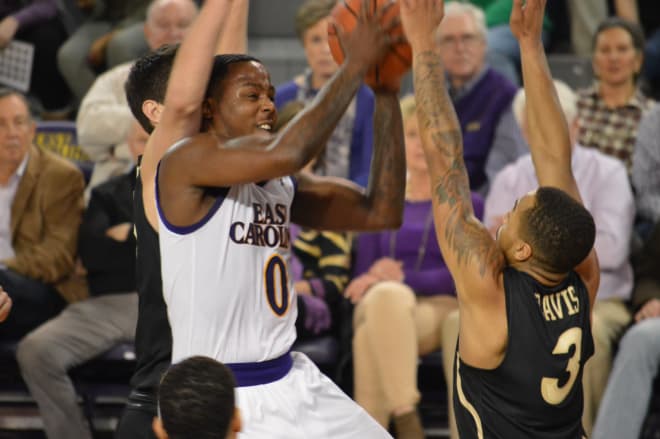 Andrien White tossed in 30 points to lead Charlotte to an easy 69-50 win over cold shooting ECU Monday night in Minges Coliseum.
White went 10 of 20 from the floor and hit all six of his free throws to lead three 49'ers in double-figures. Austin Ajukwa had 14 points and Milos Supica added ten to go along with ten rebounds in the victory.
Isaac Fleming led ECU with 14 points while Kentrell Barkley managed to score 11 points to go along with 12 rebounds for the Pirates.
"It was a tale of two halves. In the second half, we just didn't have it. Unfortunately being able to handle the adversity and frustration when shots aren't falling was a very difficult thing for our team to do," interim ECU head coach Michael Perry said, "That's the time when you have to step your defense up be able to create some opportunities off of your defense."
"We were able to do that in the first half. We didn't shoot the ball particularly well, but we were able to generate some points off of our defense and it put us in a position to have a lead," said Perry.
"We just got lackadaisical and got comfortable and just didn't come out with that same hunger (in the second half) and they took advantage of it," Fleming told PirateIllustrated.com afterward, "No excuses. Two weeks off - we could have been off for a month. That's basketball and that's what we came here to do."
"The ball just wasn't going in the basket. We can't make excuses, we just have to come back and be better," said Fleming.
Charlotte(4-6) jumped out to an early 12-4 lead in a low scoring first nine minutes of the game boosted by a pair of Andrien White baskets and 2-12 shooting early in the game from the Pirates.
Then ECU(5-5) heated up with baskets from B.J. Tyson, Kentrell Barkley and a pair of buckets from Isaac Fleming that helped ECU close to within three at 16-13 with just under seven minutes to play in the half.
Shawn Williams got into the act with a trey that cut the lead to one before an Isaac Fleming steal resulted in a three-point play and gave ECU their first lead of the game a 18-16 with 5:32 to go in the first half. Kentrell Barkley's trey from the top of the key, an inside shot from Jabari Craig and a steal and score from Fleming for his tenth point of the half helped ECU open up a nine point 25-16 cushion.
But two Andrien White free throws and a subsequent three-point bomb finally broke the ECU run for Charlotte and helped the 49'ers close to within three with a minute and a half to go before ECU took a 31-26 lead into intermission.
Charlotte quickly reclaimed the lead in the second half, scoring 17 straight points while the Pirates couldn't buy a bucket. The 49'ers had a 57-39 lead with seven minutes to go in the game and cruised the rest of the way.
Charlotte got 44 of their points in the paint and 24 off of 18 ECU turnovers that converted into 18 fast break points against a Pirate team that hit just 2 of 21 from the arc and 22 of 66 overall.
"Personally, I can't keep doing this five turnover thing," Kentrell Barkley said, "I feel like me as a basketball player, that just can't happen. That hurt but we did it collectively as well. We've got to do better. This is unacceptable just for the fans watching us play. Collectively as a group we didn't play hard and get the 50-50 balls. We didn't do the small things."
The Pirates reload this Thursday night when Grambling visits Minges Coliseum. Game time is at 7 o'clock.
PI POSTGAME AUDIO: ISAAC FLEMING, KENTRELL BARKLEY & MICHAEL PERRY