B.J. Tyson and Jeremy Sheppard Pick Up AAC Weekly Hoop Honors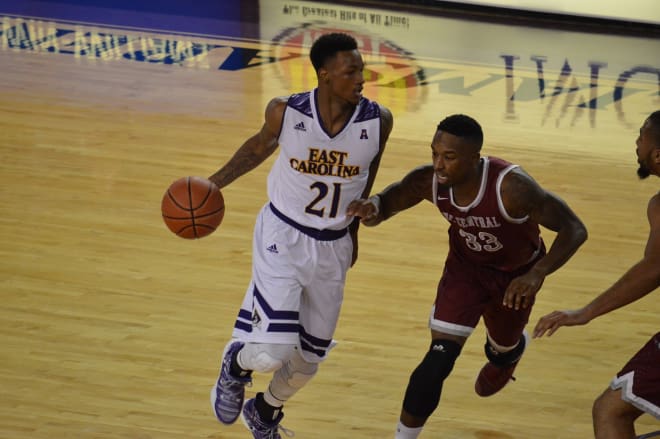 PROVIDENCE, R.I. – The American Athletic Conference has announced the winners of the league's weekly men's basketball honors for the week of November 28-December 4.
AMERICAN ATHLETIC CONFERENCE PLAYER OF THE WEEK
Kyle Washington · Jr. · F · Cincinnati · Champlin, Minn.-Washington led Cincinnati to a pair of victories, averaging a team-high 18.5 points, 8.0 rebounds and 2.0 blocks. Washington posted his fourth double-double of the season in Cincinnati's 55-54 overtime win at then-No. 19/21 Iowa State with a team-high 13 points and 10 rebounds. The lefty closed the week by notching a career-high 24 points as the Bearcats rolled past Bowling Green, 85-56.
AMERICAN ATHLETIC CONFERENCE ROOKIE OF THE WEEK
Jeremy Sheppard · Fr. · G · East Carolina · Richmond, Va.-The freshman helped East Carolina to a 2-0 week, extending the Pirates' non-conference, home court winning streak to 18 games. Sheppard averaged 11.0 points and 5.5 assists, including a 13-point, 8-assist performance against North Carolina Central on Saturday. The Richmond, Va.-native opened his week with a nine-point, three-assist effort against Hampton.
WEEKLY HONOR ROLL
B.J. Tyson · Jr. · G · East Carolina · Wadesboro, N.C. - Tyson became the fourth East Carolina player to reach 1,000 career points before his senior year and eighth player in The American score 1,000 career points, hitting the mark in the Pirates' win over North Carolina Central. Tyson posted a game-high 17 points in the Pirates' 68-48 win over Hampton while also distributing five assists.
K.J. Lawson · R-Fr. · G/F · Memphis · Memphis, Tenn.-Lawson averaged 17.5 points, 5.0 rebounds and 3.5 assists in a 1-1 week for Memphis. Lawson posted 18 points and 7 rebounds against Jackson State before leading the Tigers with 17 points at Ole Miss.
Tank Efianayi · Sr. · G/F · UCF · Orlando, Fla. - Efianayi helped the Knights to a 2-0 week, averaging 17.0 points and 4.5 rebounds in two wins over Stetson and UMass. Coming off the bench for the first time this season, Efianayi scored a career high 24 points on 7-of-11 shooting in UCF's victory at UMass.
Rob Gray · R-Jr. · G · Houston · Forest City, N.C. - Gray led the Cougars with 21.0 points per game, including an average of 18.0 points in the first half. As LSU, Gray had a team-high 19 points in the game, 15 coming in the first half. As Houston rolled past Prairie View A&M, 21 of Gray's 23 points came in the opening 20 minutes.
Ben Moore · Sr. · F · SMU · Bolingbrook, Ill. - Moore posted his first two double-doubles of the season as SMU went 2-1 on the week. Moore had a team-high 19 points and 14 rebounds at Boise State and finished the week with a 16-point, 11-rebound outing against Delaware State.