Back to the Future: Dooley Returns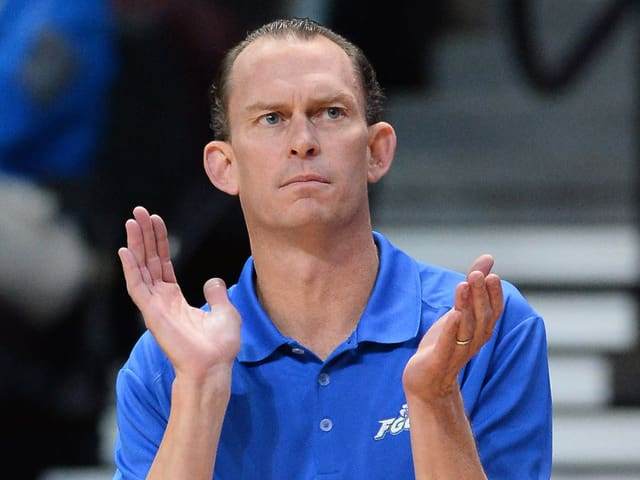 After ratification by the ECU Board of Trustees, Joe Dooley is set to make his return to Greenville as the new head basketball coach at East Carolina University. The official press release is below:
GREENVILLE, N.C. --- After leading Florida Gulf Coast to five conference titles and five consecutive 20-win seasons, former ECU head men's basketball coach Joe Dooley will return for a second stint at the helm of the Pirates' program announced athletics department officials Wednesday.
Dooley, who was ECU's head coach from 1995 to 1999, has agreed to terms on a five-year contract. He will be publicly introduced at a press conference Thursday at 11 a.m. inside Harvey Hall, which will be streamed live on ecupirates.com.
"Joe's history with the ECU community and the success he's had as a coach on and off the court will be a great asset for our men's basketball program," Chancellor Cecil P. Staton said. "Not only is he a great recruiter and a great basketball coach, but he also understands the importance of connecting with our alumni, fan base, student body, faculty, and community at large. He also gives proper priority to the academic success of student-athletes. I am delighted to welcome him back to Pirate Nation."
Dooley finished his tenure at FGCU with a five-year record of 114-58 (.663), leading the Eagles to three Atlantic Sun (ASUN) Conference regular season championships, including their first-ever title in 2014, and two second-place finishes. He also helped them capture two conference tournament trophies and earn NCAA Tournament appearances in 2016 and 2017. The Eagles defeated Fairleigh Dickinson in the 2016 First Four to advance into the main bracket.
He is one of only 35 NCAA Division I coaches over the last five years with a winning percentage of over 66 percent and more than 110 victories.
Dooley was twice named ASUN Coach-of-the-Year (2017, 2018) as well as the 2017 NABC District III Coach-of-the-Year. He coached 10 all-conference selections, including 2018 ASUN Player-of-the-Year and Associated Press honorable mention All-America selection Brandon Goodwin as well as 2017 ASUN Defensive Player-of-the-Year Demetris Morant.
The Eagles participated in postseason play each of Dooley's five seasons in Fort Myers, winning 21 or more games every year with two NIT and one CIT appearance in addition to a pair of trips to the NCAA Tournament.
FGCU finished among the top-25 nationally in field goal percentage three times, rebounds per game twice and was among the top-42 in scoring twice during Dooley's tenure.
A renowned recruiter, three of Dooley's recruiting classes at FGCU were ranked No. 1 in the ASUN with each of those classes ranked among the top-25 outside the Major 7 conferences (ACC, American, Big East, Big Ten, Big XII, PAC-12 and SEC).
Dooley also tutored 21 ASUN All-Academic performers during his first four seasons (the 2017-18 team will be announced later this spring).
He has a nine-year overall head coaching ledger of 171-110 (.608), including four years at ECU.
Dooley, who is the Pirates' all-time Division I leader in winning percentage (.523), led ECU to an overall record of 57-52 during his four-year tenure that included back-to-back 17-win campaigns during his first two years. He won more games (44) in his first three years at the helm of the program than any of his predecessors.
In 1996-97, he led the Pirates to their only top-3 finish during their 15-year membership in the Colonial Athletic Association (CAA), tying for third with a 9-7 record led by Raphael Edwards, who was a two-time all-conference selection under Dooley's tutelage.
Dooley was the youngest head coach in NCAA Division I men's basketball at the age of 29 when he was promoted to ECU's top basketball position in April of 1995.
Prior to being named head coach, Dooley served four seasons as coach Eddie Payne's top assistant and was part of the Pirates' staff that went to the 1993 NCAA Tournament by securing the CAA's automatic bid.
Before coming to Greenville, Dooley and Payne served on the same staff as assistant coaches at South Carolina for three seasons.
Dooley began his coaching career as an assistant on the Gamecocks' staff in 1988 under George Felton, working alongside Payne and three-time National Coach-of-the-Year Tubby Smith before accompanying Payne to Greenville.
He later served as an assistant coach at New Mexico (1999-02) and Wyoming (2002-03) before joining Bill Self, a four-time Big XII Coach-of-the-Year during their 10 campaigns together, for his inaugural season at Kansas in 2003-04. During his decade in Lawrence, the Jayhawks compiled a 300-58 record, including a 137-27 mark in the Big XII with nine regular-season crowns and six conference tournament titles.
He won a national championship as an assistant coach at Kansas in 2008 and helped the Jayhawks earn another Final Four berth in 2012.
In 2010, Dooley ranked first among all "High-Major Assistants" by Foxsports.com, which was up from his No. 6 ranking by the media outlet in 2008. In 2007, he was rated the fourth-best recruiter in the nation by Rivals.com. Dooley recruited or coached 14 NBA draft picks in his 10 years at KU, including nine first-round selections.
In 30 years as an assistant and head coach, Dooley has helped lead six different programs into the postseason, accumulated 657 victories with 14 NCAA Tournament appearances and seven NIT bids.
Dooley is a 1988 graduate of George Washington University in Washington, D.C., where he earned his bachelor's degree in speech communications. A four-year basketball letterwinner at GW, he started his last two seasons and was elected a team captain as a senior.
A native of West Orange, N.J., Dooley and his wife, Tanya, have a son, Max.
The ECU ticket office will be accepting season ticket deposits for the 2018-19 men's basketball campaign beginning Thursday. Season ticket deposits cost only $50 to guarantee your seat inside Williams Arena at Minges Coliseum. Those who place their deposits by April 10 will receive an invitation to attend a practice prior to the season. Only season ticket holders who place their deposit will be invited for the behind the scenes view of the Pirates and new head coach Joe Dooley. Season ticket prices and full season ticket packages will be available in August.