Brandon Pena and Kendall Futrell Address ECU Front Line Progress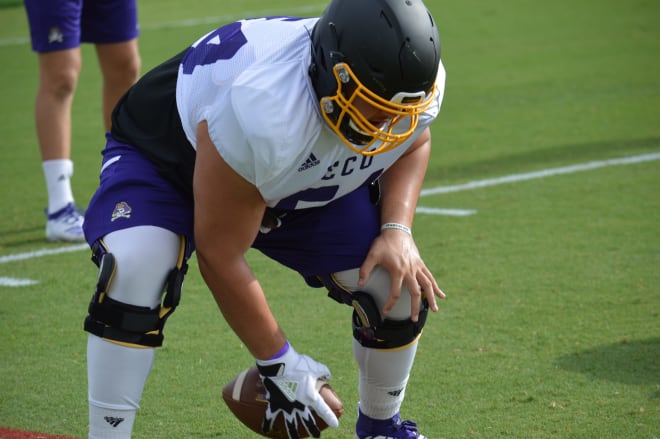 It was ECU's first day in full pads on Wednesday as the team works towards a Saturday scrimmage in Dowdy-Ficklen Stadium.
Leroy Henley, Deondre Farrier and former D.H. Conley receiver Duce Fisher were among those who had touchdown receptions in the latter part of practice on Wednesday while Darius Pinnix looked particularly solid in three on three contact drills early in the workout.
Offensively, Brandon Pena could play a significant role on the offensive line both at center and sometimes at guard. Pena has high hopes for this season and he talked about it Wednesday.
"We're going to go downhill. We've got a big back in Darius Pinnix and a big quarterback in Holton Ahlers too where he can also run too so it's just downhill and we're ready to go," said Pena.
Pena along with John Spellacy and Peyton Winstead at center have all seen their share of injuries. Pena says it has brought them all closer together.
"John and Peyton are all good friends of mine. John called me first when he found out that he got cleared. Even though we've been competing back and forth since he's been here, we're great friends. I go over to his house, we cook food together. We're great friends," said Pena.
The Salinas, California senior addressed the confidence level of his unit as we head toward the first scrimmage of fall camp on Saturday in Dowdy-Ficklen Stadium and says everything is looking up.
"Yes, the confidence is improving. We're figuring out who we are," Pena told PI after Wednesday's first full pad workout at Hight Field, "We didn't have an identity. When you get a new coach you have to reidentify yourself and figure out who we are going to be as a team. Now we're figuring it out step by step. We've still got a long ways to go but step by step we're figuring out who we are."
For veteran defensive end Kendall Futrell it was an enjoyable experience albeit a hot morning at Hight Field for the team's first Wednesday of fall camp.
"It was a lot of fun. Everybody was flying around, we finally got to hit and put some pads on so it was a lot of fun and a lot of energy," said Futrell,
"I feel really good. I feel the best I've felt since I've been here - speed, explosiveness, power and that kind of stuff. Just trying to be healthy and get back in shape."
Futrell outlined the thing that he has tried to bring to this year's ECU defense in the early going of fall camp.
"Just get the energy going. It's all about energy. Everybody's tried and everybody's hot so somebody has got to spark the energy and get everybody going."
The former South Central star out of Winterville knows that a lot of the success of this year's team hinges on the defense and their ability to make plays. Futrell talked about the potential for this season defensively.
"We can be as good as we want to be. We've got to have effort and play hard every play, listen to the techniques and execute them," Futrell told PirateIllustrated.com after Wednesday's workout, "But we can be as good as we want to be."
Stay tuned for more as PirateIllustrated.com coverage of the 2019 ECU fall football camp continues here on Rivals.com.
PI AUDIO: D-END KENDALL FUTRELL & OFFENSIVE LINEMAN BRANDON PENA