BYU Superlatives & Postgame Comments from Coach Sitake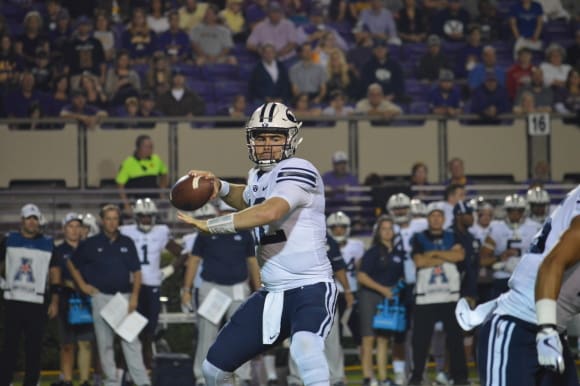 With Saturday's victory ECU evened up the series against BYU at 1-1. With the loss, the Cougars fall to 1-7 for the season. For the second time this season, BYU's defense forced a turnover on the opponent's first possession (Boise State). The offense cashed in with a touchdown again as well.
The Cougars finished with 319 passing yards, the most since 441 against Southern Utah in 2016. It was the first time BYU was over 200 passing yards since that game as well. BYU had 421 yards of total offense, setting a new high for the season.
Aleva Hifo finished the game with a career-best 148 yards on nine receptions. He is the first 100-yard BYU receiver since Mitch Mathews had 158 yards against Utah State in 2015.
Tanner Mangum completed 26 of 41 passes for 319 yards. It was the first time a BYU quarterback threw for at least 200 yards since Taysom Hill threw for 320 yards against Southern Utah in 2016. His 26 completions were a season best. It was also his sixth career 300-yard game.
Jonny Linehan had five punts for 252 yards including two of 50 yards or more and three dropped inside the 20-yardline. He also had a season-long punt of 59 yards.
****************************************************************
Notable firsts for BYU on Saturday.
Touchdown: Micah Simon & Matt Bushman
Forced fumble: Zayne Anderson
Fumble recovery: Adam Pulsipher
BYU Head Coach Kalani Sitake gave his thoughts on Saturday's 33-17 loss to ECU in Greenville.
"First off, give a lot of credit to East Carolina. Coach Scottie Montgomery did a great job getting his guys ready and did a better job getting his team ready. Unfortunately, we lost the game. We had some good moments and we had some positive yards but the scoreboard doesn't indicate a lot of the positive things we saw. Now we have to rally back and find a way to keep playing and keep competing and work for the seniors for the rest of the season."
Sitake talked about BYU's overall offensive issues this season.
"That is the million dollar question right now and it is my job to figure it out. It looked like we had a little bit of a roll towards the end there in the passing game. Between myself and the coaches, it's on us. The players are giving us solid effort and it has been like that all year. This one is on us coaches and we need to find a way keep working and find consistency."
Going back to the drawing board for BYU.
"We are always assessing what is the best thing for us and going back to square one right now is to review and evaluate our guys at all positions. We have ones that we need to focus on for the future and how we can honor these seniors with these last games. We just have to give ourselves a better chance to win. We can't blame it all on the quarterback and blame it on one position. A lot of it has a lot to do with us coaches and we need to figure our whether it is personnel or scheme, figure out what is best for us on all three phases."