Charlotte Snaps ECU's Ten Game Win Streak in a 2-0 Game One Win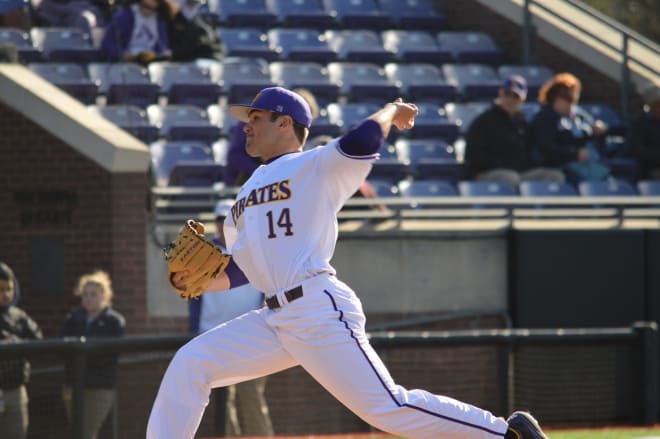 Charlotte scored two runs in the top of the ninth inning of a scoreless game and the 49'ers held on to take a 2-0 victory and end (8)ECU's ten game winning streak in front of 2,629 fans Friday night in Clark LeClair Stadium.
Matt Brooks(2-0) got the win for Charlotte, Jonah Patton picked up his third save of the season and Sam Lanier(2-2) took the loss for East Carolina(10-4) in the first of a three-game weekend series in Greenville.
The two teams were held scoreless through seven innings on a breezy, 60 degree March afternoon.
Big Charlotte right hander Colton Laws retired twelve straight ECU batters until Spencer Brickhouse hammered a triple off the top of the right centerfield wall with two outs in the bottom of the seventh inning. But Brickhouse was unable to score when Eric Tyler struck out to end the inning.
ECU first time starter Jake Agnos kept Charlotte scoreless, scattering five hits and giving up four walks with one strikeout in six innings of work. He yielded to Sam Lanier in the eighth in a pitcher's duel. Lanier was able to keep the 49'ers at bay in the seventh and eighth innings for the Pirates.
Former Pirate pitcher Colton Laws went seven and a third innings for Charlotte. Laws gave up three hits and struck out nine ECU batters before being lifted for right-hander Matt Brooks.
After a leadoff double from Zack Smith to center, Charlotte suddenly had something cooking in the top of the ninth. ECU brought in Fayetteville closer Joe Ingle for Lanier and Todd Elwood came on to pinch run for Smith at second base for the 49'ers.
Harris Yett singled to left field to score the first run of the game for Charlotte. Yett then advanced to second base on a Hunter Jones sacrifice grounder. Reece Hampton's single up the middle advanced Yett to third bringing up Brett Netzer whose base knock to center scored a second Charlotte run to make it 2-0.
ECU got one aboard in the bottom of the ninth when Turner Brown reached on a throwing error. Luke Bolka's one out seeing eye single, that skipped by Charlotte short stop Hunter Jones, gave the Pirates runners on first and third. But Spencer Brickhouse and Eric Tyler both struck out to end the game.
49'er junior pitcher Jonah Patton came on in relief for Brooks to close the deal for Charlotte(11-4) in the bottom of the ninth inning and secure the victory.