Coach Mo Pleased So Far as Installation & Tuning Up Continues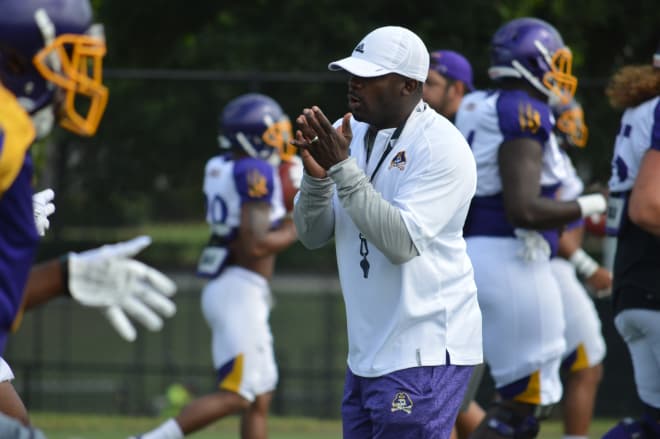 East Carolina's sixth practice of fall camp went off without a hitch Wednesday morning under partly sunny skies and moderate temperatures in the mid to high 70's, making for a conducive atmosphere to both install and improve.
Second year Pirate head coach Scottie Montgomery knows there is little time to waste with the team's first game coming up in a little over three weeks. For now he seems pleased with the progress being made so early in this year's fall workouts.
"It was a great practice. We're just getting the benefit right now, it was just great weather," Montgomery told PirateIllustrated.com Wednesday morning, "We're getting in some good practices because of it."
Montgomery is going to eventually have some big decisions to make personnel wise on offense, but right now it's about seeing everybody play which hopefully will eventually make those decisions a little easier.
Thomas Sirk is starting to split time and get some reps with the first unit along with Gardner Minshew.
"We had a little bit of a competition period down there in the red zone and we had some good competition at the end. Some great runs and a great throw by Thomas (Sirk) to score at the end with the second group. The first group did a great job on a designed play and scored on the left side edge."
The Pirates are starting to find some answers on defense too and a lot of that is a product of an improved secondary that erases a lot of mistakes.
"Defensively I thought we did great this practice. I was really concerned about our ability to block them and our defensive front. Now we're doing things to block them and now we're able to see our defensive secondary able to make plays on and around the football, so the combination of the pass rush and the defensive secondary is really helping us," Montgomery said.
"We've got to do a better job of continuing to grow and protect our quarterback against that and defensively we've got to match our run fits a little bit better with our pass rush."
Overall, Coach Mo seems to be pleased with the way his team is so quickly coming together.
"Right now we're starting to gell as a team. We've got a long way to go, there's no question about it but with all the added talent and added competition, it's making us a better program."
PirateIllustrated.com was there to bring you Coach Mo's Post Practice Interview in it's entirety in the very latest from the PI Sports Desk.