Coach Mo Recaps Houston and Delivers the Latest on Tulane Week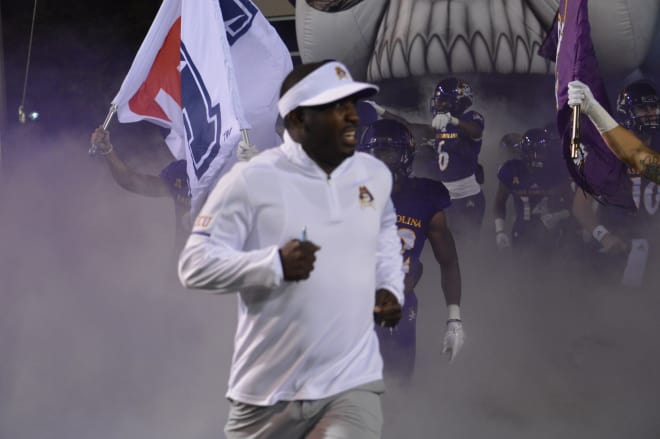 ECU(2-7/1-4) enters this week's game with Tulane(3-6/1-4) badly in need of a victory. The Pirates generated a boat load of offense last Saturday at Houston but it didn't translate on the scoreboard in a 52-27 loss.
Scottie Montgomery said the beginning of the game had a lot to do with that where the Pirates ran a flea flicker that was short-Sirkuited so to speak by an overthrown pass.
"I thought the start of the Houston game was really our demise. On offense we came out with an aggressive game plan to start the game and unfortunately we couldn't hit the big plays that we had schemed up. For a couple of weeks we had done a really good job of executing it in practice, but we got to the game and we did not execute it. We've got to do a better job of coaching it, Montgomery said.
"Then I thought our defense turned and got a stop. Then I think our next series on offense was our most critical series and it got us down basically 14 to nothing because we turned the ball over and it was turned into points."
ECU generated 33 first downs to Houston's 16 first downs. The Pirates had 140 yards on the run-pass option and 40 minutes of time of possession to 19 minutes for Houston. The Pirates were just 12 of 22 on third down offensively in the loss.

"It came down to three turnovers on offense and five plays for 240 yards on defense were the difference in this game," said Montgomery, "Those turnovers directly resulted in 21 points for their team. Anytime you start as slow as we did getting down 21-0 in the first quarter, you find yourself in a dog fight trying to fight your way out of it the whole time."
Montgomery denoted the positive play of center John Spellacy who did a good job on Cougar defensive lineman Ed Oliver. Spellacy gave up just one pressure and one sack the whole day.
He also commended quarterback Gardner Minshew who set some school records for completions and attempts.
"I thought he threw the ball well for the most part. There were still some plays that we missed and can get better, but I thought he did a good job in the football game of giving us a chance to get back in it," Montgomery said.
"Defensively we've got to do a better job in our coverage. Our defensive front and the guys who played close to the line of scrimmage did a good job of holding up against the run," said Montgomery, "To see a quarterback that runs a lot beat us with his arm was very hard to watch. Coverage has to get better. We've got to coach it better. There were two to three dropped coverages in the game that resulted in huge plays, so defensively we still have a ways to go."
Tulane is coming off a tough battle against Cincinnati in what was a very clean game that was free of turnovers.
"Number one (Jonathan Banks) at quarterback does a really, really good job of not only running their option packages, it's a gun option package, not one of the ones you see from the Academies," Montgomery stated.
"They do a really good job of using the run action pass. He's also their second leading rusher. He's completing about 55 percent of his throws, so he'll take off rather than throw the ball away, he'll take off and scramble. I think the hardest thing for our defense this week is to get him on the ground because even when you get him in the grasp he's made a lot of plays of standing up in the pocket and throwing the check downs that have resulted in huge plays."
"Defensively we've seen this front now so many times this year dating back to West Virginia, this Grizzly front where they can move back into a "Bear" and then back out into a Grizzly front. We're going to have to do a good job because this is one of the first teams that we've seen that plays a lot of man to man coverage," Montgomery said, "A huge matchup this week will be our receivers vs their defensive backs not only in the red zone but out in the field. Our quarterbacks are going to have to be extremely accurate, but we do have some opportunities to get some one on one matchups that we think we'll have a chance to make some big time plays."
Montgomery says having a good crowd Saturday night would go a long way toward helping his team win this weekend.
"We're going to need all of Pirate Nation to come out and bring that same atmosphere we had for homecoming," said Montgomery, "If we can get that, our young players will be on the sideline and it will be a great feel for our guys to come home and play in a great environment. I really think that was the difference in the BYU game and that energy will help us become victorious against Tulane as well."
Wide receiver Mydreon Vines suffered a high ankle injury last Saturday along with Bobby Fulp who dislocated a toe that was popped back in place. Fulp is expected to hopefully return this week.
Look for either Darius Pinnix or Hussein Howe to start at running back according to the depth chart. Justin Sandifer or D'Ante Smith will be at left tackle after the exit of Messiah Rice and Chris Love is slated to start at cornerback instead of Marcus Holton. Otherwise the lineup remains the same.
Montgomery will be hoping for some of his young players like wide receiver Tahj Deans and linebacker Bruce Bivins to continue their maturation process. He is also hoping for Gardner Minshew to get as many reps as possible at quarterback. ECU has yet to announce a starter for this week's game under center.
The second year ECU coach says it is critically important to be able to run the football in order to take pressure off the quarterback as well as help aid the run-action game.
Game time is 7 0'clock Saturday night for ECU - Tulane from Dowdy-Ficklen Stadium. Dave Ryan and Corey Chavous will call the action on CBS Sports Network television with Melanie Collins on the sidelines.