Coach Mo Recaps Tulsa Loss and Previews the Upcoming SMU Game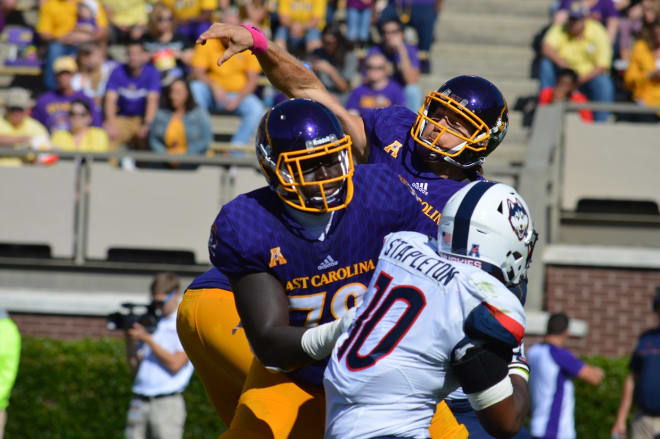 Coach Montgomery said on Monday that Tulsa won the game on Saturday at the line of scrimmage. He talked about how close he was to starting quarterback Gardner Minshew last week with Philip Nelson nursing a bit of a sore shoulder.
He said Nelson ended up having a good Friday practice, so they went with him last Saturday. Nelson was ultimately lifted for Minshew just before halftime after throwing for a hundred yards on 9 of 13 passing. Minshew threw it all over the lot in the second half for 336 yards on 29-49 passing with no interceptions, but some key opportunities were lost in close quarters to the end zone and that quickly turned what was a close game into a 45-24 Tulsa blowout.
How short was the leash on Nelson as it became apparent that he was not at his physical best last Saturday?
"I don't think it was short. If you watch early parts of the game, I thought we just missed some throws. A lot of people thought they were down-the-field throws, but they weren't. We missed some hitches where Zay had to go down to get it and fell down. Those plays turn into second-and-one, and then it gives a play-caller the whole playbook," Montgomery told PirateIllustrated.com, "Instead, we were second-and-six, and I saw some of those. Then we had some times where the pocket did break down. I would've liked to see him scramble toward the line of scrimmage and throw the ball away rather than retreat and take sacks. Those were some of the critical times that I thought some of it had to do with his physical ailment."
ECU's run game was limited at best with James Summers leading the Pirates with 56 yards. Summers only touched the ball 13 times, but with quarterback sacks and lost yardage, the Pirates ended up with just 38 net rushing yards for the contest.
This week, the Pirates will have to find ways to get positive yardage on the ground in order to open up the passing game and pick up their fourth win of the season. If they could somehow win the three final games of the season, ECU would actually get to bowl eligibility in what has been a season of growing pains for rookie head coach Scottie Montgomery.
Montgomery noted the Tulsa run game was the big difference for the Golden Hurricane in last week's ECU road loss. He also noted the pocket poise of Menshew last Saturday when he came into the game as well as Zay Jones' play from his receiver position and Kiante Anderson on defense.
The play of the ECU(3-6/1-4 AAC) special teams showed improvement and Montgomery says they provided a plus, but his team just has to get better.
Nelson missed on some passes last week according to Montgomery, but he is listed as the starter again this week for ECU at quarterback. Otherwise the Pirate depth chart remains unchanged from last week.
SMU presents it's own unique set of challenges and Montgomery noted some of the things that make the Mustangs dangerous.
"Tremendous growth and skill at the receiver position. I don't mean all over like I did last week, but I think (Courtland) Sutton is probably one of the biggest, strongest players that we've seen at the position. He's an extreme talent," said the first year ECU head coach, "All around, they play hard. Defensively, they get to the football. They've created a lot of opportunities to be in winning situations at the end of games."
"Their record may not display how close they've been. I think this last week was just an anomaly. You see certain games where things don't go your way early, and I think that's what happened to them. They had a few turnovers where things go wrong, but I think the competitive nature that Coach (Chad Morris) has been able to instill in his team in their second year has been easy to see," Montgomery said.
ECU will host SMU this Saturday at 12 Noon with Mike Couzens and Coach Dan Hawkins calling the action on ESPNews network.
Click into Coach Montgomery's SMU Monday Press Conference in it's entirety and stay tuned all week for continuing coverage of Mustang Week here on PirateIllustrated.com