Coach Mo Speaks To Three Basic Aspects of Building a Program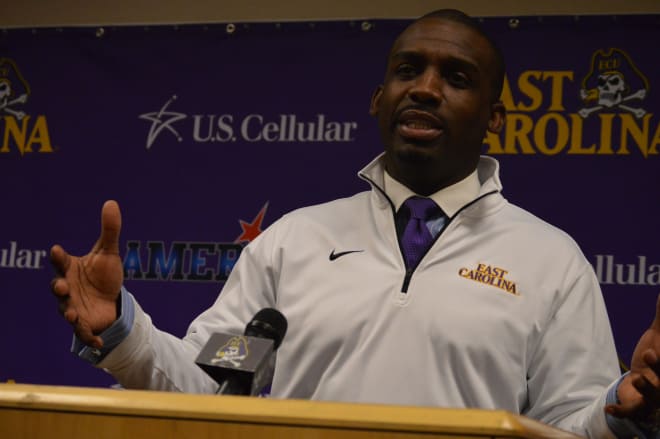 James Franklin at Penn State says coaches have to be proficient in three basic categories in order to be successful as a head coach.
You've got to have a sound scheme, you have to be able to recruit well and you have to be solid at development according to Franklin.
So PI asked Scottie Montgomery where his program stands at these three tasks both as a program and a coach at East Carolina.
"Scheme I think we are growing every single second. I think recruiting we have had one full class to recruit here. That's the frustrating part of it all. I feel like I could have helped our situation a lot more with 25 scholarships quicker and quickly. But the foundation of the program, you can't just go out and recruit 25 junior college players," Montgomery told PirateIllustrated.com, "You can't do that to your program, so we have had to recruit some young guys and we've got young guys playing."
In terms of development, that will take time and Montgomery was the first to agree.
"The development, I think we have a ways to go in every situation. I think that we can develop our guys better and we can make sure when they get to their junior year they'll be a little more physically fit than we are right now."
"Coach C [Connors] is doing a good job working with those guys. We also have to bring in the highest level of recruiting," Montgomery told PI, "One of the things that a lot of people need to understand is that we are recruiting in a different pool now. It was fine if you watched the talent level of some of the places in the last conference that we were in, it's fine to play. But now, every week you are seeing guys that are big time draft picks and we have to get to the point that where we are recruiting draft picks to go against those draft picks. And that's exactly what we are doing."
Montgomery says ECU is on the way to working toward the ultimate goal of bringing in more NFL type draft choices.
"I think that we have a couple of players on this football team that are definite draft picks and we have just got to continue to grow and make sure that we have multiple draft picks in each class."