Cold Second Half Shooting Dooms ECU in a 79-53 Loss at Tulsa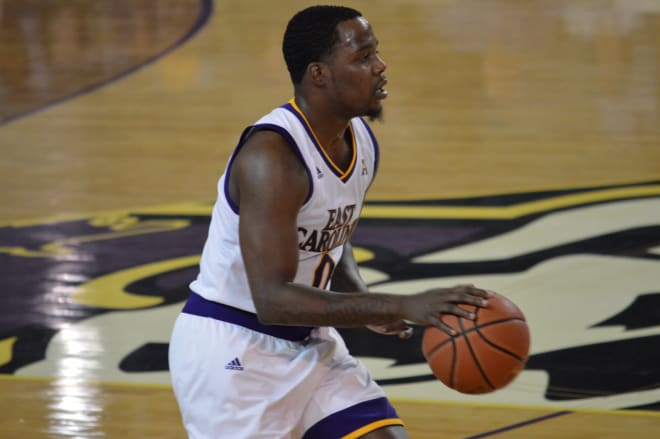 ECU ran into a Golden Hurricane in Tulsa Thursday afternoon and came out on the short end of a 79-53 beating in Reynolds Center. Junior Etou led four Tulsa scorers in double-figures with 20 points. Etou eclipsed the 1,000 point scoring mark for his career in the victory.
The Pirates were down by just four points at halftime but Tulsa's defensive pressure and ECU's inability to score points proved to be the difference in the game.
B.J. Tyson scored 17 and Shawn Williams added 12 for ECU who suffered through cold 32 percent shooting for the game including just 6 of 28 from three-point land.
With the loss, the Pirates fall to 6-6 for the season and 0-1 in AAC play. Tulsa had just five turnovers for the day and used their half court press to suffocate ECU offensively. Tulsa had 21 second chance points and ECU only got to the free throw line seven times.
"This is part of the game and part of basketball particularly on the road. When you're not shooting the ball well, you've got to do some other things to try to create some scoring opportunities," ECU interim head coach Michael Perry said, "They shot fifty percent in second half from the field and you're not going to win games in this league when you allow an opponent to hit fifty percent of their shots."
"We had our first experience of AAC basketball on the road and it was a bitter pill to swallow but, we're going to get better because of it," said Perry.
Tulsa(7-5) vaulted out to an early 12-4 lead before the Pirates mounted a comeback. ECU's Usman Haruna came off the bench and tied the contest at 22-22 with just over five minutes to play in the half. He then scored again with 1:48 to play before a Shawn Williams three-pointer with just over a minute in the half tied the game again at 27-27.
A pair of Junior Etou baskets and a Sterling Taplin layup with just one second to go in the half helped Tulsa to take a four point 31-27 lead into the locker room. Etou led all scorers in the first half with ten points for Tulsa. B.J. Tyson, Shawn Williams and Dimitri Spasojevic scored six points each in the first twenty minutes for the Pirates.
ECU was a cold 3 for 13 from the arc in the first half and connected on just 34 percent of their shots overall while Tulsa wasn't much better going 4 of 17 from three-point land and 31 percent from the floor heading into halftime.
But Tulsa got off to quick start in the second period with Martins Igbanu connecting inside and Lawson Horita nailing a pair of treys and a layup in the full court press to expand the lead to twelve at 41-29.
A pair of B.J. Tyson baskets cut the Tulsa lead back to nine before an Etou trey and subsequent back door cut for a easy layup kept Tulsa in control by 14 at the twelve minute mark. Igbanu, Etou and Curran Scott kept the offensive pressure on the Pirates in a 17-0 Tulsa run that expanded the lead to 21 at 63-37 before a Kentrell Barkley layup for ECU finally stopped the run.
Barkley fouled out with five points on a technical foul as the Tulsa lead ballooned to 66-41. While ECU remained cold on the offensive end of the floor, Henderson, Taplin and Elijah Joyner hit shots to compound the issue for the Pirates in a 75-41 ballgame.
Shawn Williams tossed in a late trey and K.J. Davis added a baseline dunk for ECU in mop up time but it proved to be too little, too late for the Pirates who fall to 0-1 in conference play.