Dooley Poised for Success at ECU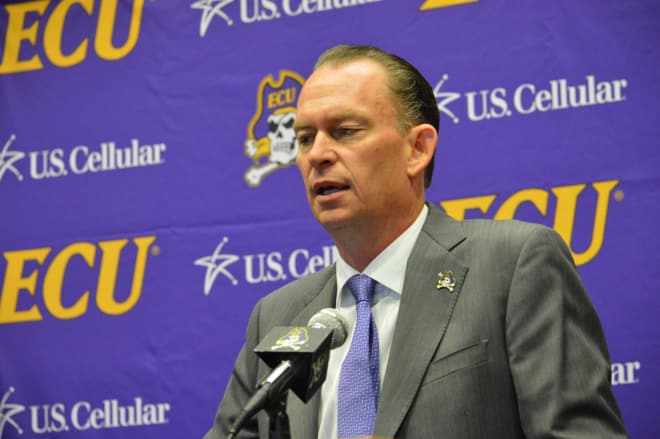 In a state full of legendary basketball programs the one thing ECU has always wanted to have is a representative basketball program that can make it to postseason play.
Joe Dooley has had a boat load of postseason experience since leaving Greenville back in the 1990's. The trick now is to find a way to make that translate into a better program at ECU.
It's not going to be all up to the head coach either. The fans have to do their part by filling Minges Coliseum and putting forth the proper effort to put the Pirates in a position to win more often.
Dooley talked about some of the main ingredients in finding success in Greenville.
"Good players. I always think you're a better coach when you have good players and that comes in recruiting and making relationships and that's what we're going to do," Dooley said on Thursday, "We're going to hit the road running recruiting wise especially."
The new ECU head coach says it remains to be seen if there will be more scholarships available depending on who stays and who goes from the current returning crop of Pirates.
"I'm going to meet with all the guys tomorrow morning and see what their future plans are. I always recruit like you have another scholarship available. It's always easier to unrecruit than it is to recruit."
It had to be a bit of a culture shock when Dooley arrived in Greenville with all the new buildings, the basketball practice facility, the expanded football stadium and the new construction going on all over campus and in Greenville overall.
"I was really surprised in a positive way about the practice facility. You know you hear it's a nice facility and the good thing is you can make it even nicer without having to renovate," Dooley told PirateIllustrated.com, "There are couple of graphics and things that we'd like to do but I do think from a structural from a practicality standpoint that the offices, the practice facility and the conference rooms that's all real nice.
That's the good news. You don't have to build something, you can tweak some things and that's good."
Just looking at the current program as it stands currently, Dooley outlined what needs to be done first to begin to build the program up from where it stands currently.
"We've got to recruit. Recruit the building first and see who is committed and who wants to be a part of it and we've got to recruit some players for the future," said Dooley, "I know Jeff (Lebo) is a heck of a coach so I know these guys have been coached. Jeff knows what he's doing. I'll visit with him about some of the guys and I'll visit with people from the administration and try to figure some things out from there."
A lot of turning the program around will come down to assuming the sale in the various aspects from recruiting to development and everything in between.
"The biggest thing is never to settle. The importance of not settling in any aspect is really going to be continuing to be reinforced. Then in watching some of the guys I've worked with over the last few years and even at Florida Gulf Coast, if you're afraid to try to go after it you're not going to be any good and I think we're not going to be afraid."
When asked is East Carolina is a place that can be successful in basketball, Dooley says it can be.
"It is. Is it going to take some time? Yep, but we knew that getting into it and now we've just got to build the right type of culture and get the right type of guys who want to help East Carolina be good."