Dye Finds Daylight at East Carolina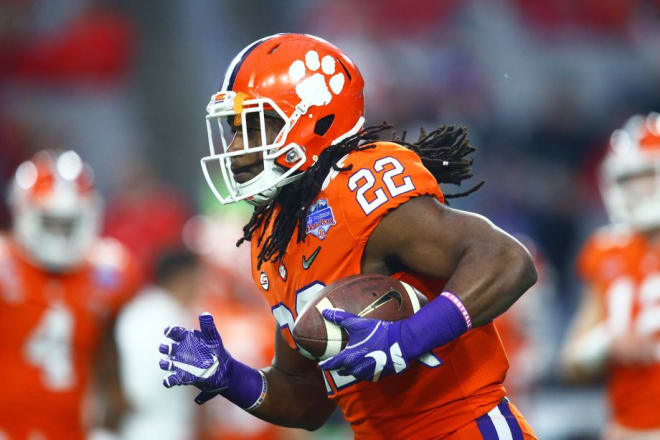 East Carolina has picked up more help at running back in the form of their second graduate transfer addition in the last 24 hours.
Tyshon Dye comes over from Clemson where he rushed for 351 yards to go along with five touchdowns in his 76 carries over 17 career games in Death Valley.
The 5-11, 220 pounder from Elberton, Georgia was graded as the number 17 running back nationally and a top 16 player in the state coming out of high school by Rivals.com.
Dye rushed for 817 yards on 95 carries and 12 touchdowns in just seven games as a high school senior after being limited by injury. A region offensive player-of-the-year as a senior, Dye was selected to the North-South All-Star game. He had eight kickoff returns for 120 yards and a touchdown.
As a high school junior, Dye made All-State and region Player of the Year. He tallied 1,561 yards on 212 carries and 21 touchdowns to go along with 17 receptions for 198 yards and two touchdowns and two punt returns for touchdowns.
Last season at Clemson, Dye produced 109 rushing yards and a touchdown on 21 carries in 53 snaps over seven contests and posted six carries for 19 yards in his most significant action versus Troy. Dye ran for 47 yards on five carries in the S.C. State game. He had the first rushing touchdown of the season at Boston College among his three carries for 11 yards and had a 12-yard carry against Syracuse. Dye rushed for 23 yards on five carries in the South Carolina game.
In 2015 Dye had 91 rushing yards and two touchdowns over six games including two short touchdown runs in the season opening against Wofford. He ran eight times for 52 yards on the road at Miami and tallied 11 yards on three carries against Wake Forest.
In 2014 Dye had 151 yards and two touchdowns on 32 carries in 57 snaps over a four game period including a game-high 124 yards and two touchdowns on 20 carries against Georgia State. Dye produced 13 yards rushing on six carries against No. 24 Oklahoma in the Russell Athletic Bowl.
Dye will enroll this summer and has just one year of eligibility remaining.