East Carolina Falls by 19 at Temple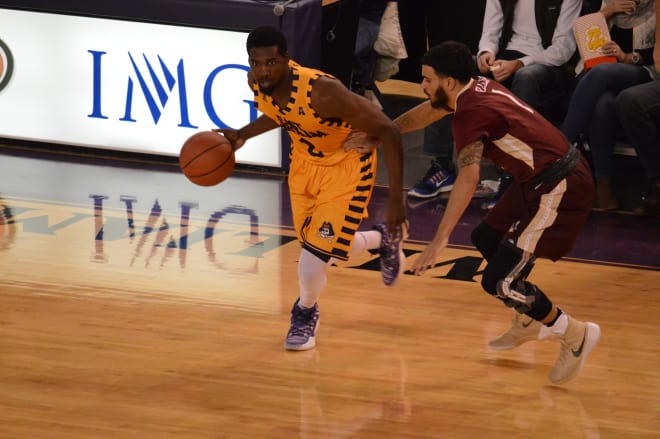 PHILADELPHIA - East Carolina continued to search for answers both defensively and especially offensively but were unable to find many as the Pirates dip to 9-8 and 1-3 in AAC play after a 81-62 loss at Temple Saturday afternoon in Philadelphia.
Daniel Dingle led five Owls in double-figures with 19 points in Temple's first conference victory of the season after three straight losses while Kentrell Barkley led ECU with just nine points. Ernest Aflakpui added a double-double with 13 points and ten rebounds for the Owls.
"We had our opportunities again and we took pretty good care of the basketball but we had some untimely turnovers. We didn't finish again shooting the basketball," Jeff Lebo said after the game, "Shooting has been our Achilles heel and it's been a frustrating thing to watch when we can't put the ball in the basket. We got some good looks and got the ball inside a bunch and just didn't finish as much as we needed to do. We didn't have one guy in double-figures."
After falling behind early by six points, a pair of B.J. Tyson jumpers tied the game for ECU at 12-12 with eleven minutes to play in the first half. ECU took their only lead of the game on a Michel Nzege basket in the paint midway through the half. But while ECU kept the game close on 48 percent first half shooting, the lead proved to be short lived.
Mark Williams heated up for the Owls scoring in the paint, on a fall away jumper and then a three-pointer. Obi Enechionyia added to the damage with a pair of buckets and Daniel Dingle tossed in five late first half points to lead Temple to a six-point 40-34 cushion.
The Owls knocked down 44 percent from the floor in the first half. Enechionyia led Temple with nine, Daniel Dingle had eight and Williams scored seven first half points. A pair of freshmen led ECU in scoring at halftime. Jeremy Sheppard came off the bench to score six points and Elijah Hughes had five for the Pirates.
Ernest Alakpui scored from both inside and out and with help from Quinton Rose and Daniel Dingle, Temple built a fourteen point point 62-48 lead with ten minutes to play. The Owls then stretched the lead to as much as 19 at the end on a Quinton Rose bucket.
ECU went 3-14 from the arc while Temple led the game for just under 38 minutes of the contest and was able to connect on 6 of 19 and led 39-28 on the glass. The Owls held ECU to 42 percent shooting from the floor overall.