East Carolina Hammers Elon 7-2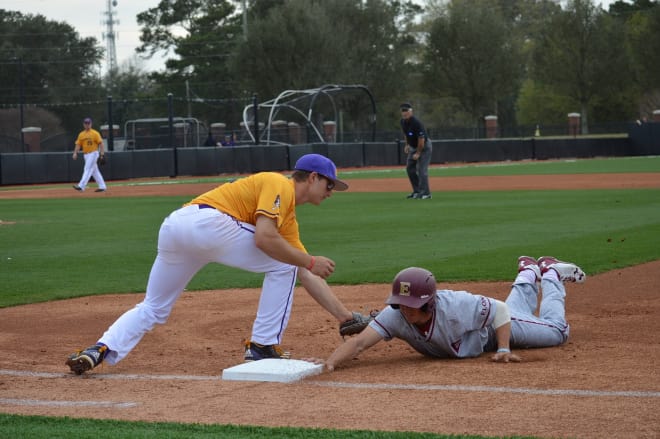 GREENVILLE - Nationally ranked East Carolina kept their winning ways going wth their fifth straight win in a 7-2 midweek victory over Elon Wednesday afternoon in Clark-LeClair Stadium.
Chris Holba(2-0) picked up the win for ECU(5-3) while Jordan Barrett(1-1) took the loss for Elon(4-4). Travis Watkins had three hits and a run to lead the Pirates.
Elon got on the scoreboard first when Garrett Satterfield doubled down the right field line off of ECU starter Chris Holba scoring Zach Evers snapping a 23 inning scoring drought. The Phoenix cashed in again in the first when Kyle Jackson's pop fly to right scored Satterfield to give Elon an early 2-0 lead.
T.J. Riles got ECU on the board in the third frame when when he scored on a throwing error and suddenly it was 2-1.
ECU scored again in the third inning when Charlie Yorgen scored off a Luke Bolka pop fly to tie the contest at 2-2.
The Pirates were at it again in the bottom of ther fourth when when T.J. Riles' squeeze bunt scored Spencer Brickhouse from third base. Then Charlie Yorgan, playing in his 175th straight game for the Pirates slapped a double past second baseman Ryne Ogren that scored Tyler Edwards and increased the ECU lead to two at 4-2. That brought on George Kirby in relief of Jordan Barrett for Elon who was credited with giving up five runs when Turner Brown's two-out single scored Yorgan to make it 5-2 after four innings.
In the fifth inning, Travis Watkins launched a triple off the top of the right centerfield wall. Watkins then scored on a wild pitch from Kirby as ECU's lead grew to 6-2.
Dusty Baker scored from second base to make it 7-2 when Turner Brown belted a looping single into right field in the bottom of the eighth inning and Kyle Jackson's throw to home plate was just late.