East Carolina Hammers Western Carolina 52-7 in Montgomery Debut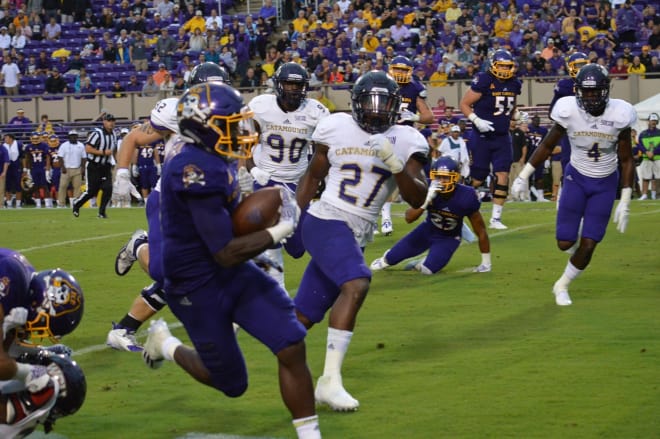 GREENVILLE, N.C. - Philip Nelson threw for 398 yards and five touchdowns and Anthony Scott ran for 120 yards on eleven carries to lead East Carolina(1-0) to a 52-7 blowout of Western Carolina Saturday night in Dowdy-Ficklen Stadium to open the Scottie Montgomery era in Greenville.
Nelson connected on 28 of 32 through the air while James Summers also got in the act, running for 95 yards of his own from both the running back and quarterback positions throughout the game.
"My role was definitely different, but it's the same concept. You've got to go out there and keep everybody composed and I was doing that from a different position, but it was awesome to go out there and run around."
Nelson looked solid throughout the contest and after waiting a couple of years to get back on the field in game action, it came as a relief.
"One of my main focuses was keeping the emotions in check tonight and I'm still doing a good job of that, but I'm sure sometime tonight I'll have to let it go soon," Nelson told PirateIllustrated.com, "It really makes me feel good to know as a quarterback that what we did over the summer really paid off and I think you guys saw that out there tonight."
"It's a lot of emotions. I'm just so proud of our guys, but at the same time we're not done here yet. It's just one game," said Nelson, "We're going to enjoy it tonight, but tomorrow it's all N.C. State. I'm ready to get back to work as well."
"What you saw tonight was a quarterback who understands the offense and lived up to everything we thought he would be," Scottie Montgomery told PI, "He took care of the football. We're very, very proud of him and you got to see our offensive front do a good job tonight. We're going to continue to try to get better at rushing the football, but we rushed the ball pretty good tonight."
"The weapons that Philip had were pretty good night tonight," Montgomery continued, "There were a lot of balls being caught and not very many balls on the ground. "
The game was never close with the Catamounts' only score coming on a Detrez Newsome 13-yard touchdown midway into the second quarter.
All told, ECU ran for 225 yards and threw for 413 in a 688 yard offensive outburst while holding Western Carolina to just 320 total yards for the evening.
Zay Jones' ten catches for 180 yards and a touchdown along with two Anthony Scott touchdowns via the air out of the backfield highlighted the ECU passing attack. Even Quay Johnson and tight end Steve Baggett looked solid catching the football for the Pirates.
Redshirt freshman quarterback Tyrie Adams went 12 for 24 for 167 yards with one interception from his quarterback position for Western Carolina(0-1). He and Newsome both accounted for 57 yards each on the ground in the loss.
Montgomery was complementary to the ECU defense for their efforts in a game where the Pirates only committed three penalties as a team the entire game.
"Defensively I thought the turnover at the beginning of the game was such a huge play in the game and such a huge play in the season for confidence and everything else. That was a great play. Then to go down and get the score off of it, that's offense and defense kind of working together there," Montgomery said.
"They gave us some fits like we knew they would with some of the motion and some of the stuff they did. The quarterback was really slick. Great hands. Probably some of the best hands in the zone read that I've ever seen, meaning that he could pull that ball as late as about anybody we've been around and never put it on the ground," said Montgomery, He was very good catching snaps, he could spit it out and I was very impressed with the job Coach (Mark) Speir has done with that defense and that whole team."
Speir reflected on his team's first game of the season on the road against a tough ECU ball club.
"Well certainly not the way we wanted to start out the 2016 season. Felt good initially about how we came out and moved the ball right down the field and then we have a fumble down on their sideline going into the red zone which can't happen," Speir said, "You can't do that against an opponent. You know, I thought Tyrie (Adams) came out and threw the ball extremely well and had poise inside the pocket. Got us out of some bad situations sometimes."
Western Carolina showed a great deal of potential although it didn't translate into a lot of points Saturday night in a tough road test in Dowdy-Ficklen Stadium.
"You know going through the second quarter stretch there it was about 24-7. We're playing okay and doing things and then that two-minute drive right there before the half were they score and then we come out and kickoff to them and they drive down the field. Then you know the third quarter where we lost composure there a little bit as a football team and then we started to have some cramps and some injuries."
Catch PirateIllustrated.com's ECU - Western Carolina post game from Murphy Center along with PI Photo galleries from Saturday night's game and more...
COACH SCOTTIE MONTGOMERY POST GAME PRESS CONFERENCE
ECU PLAYER POST GAME INTERVIEWS
EAST CAROLINA-WESTERN CAROLINA PHOTO GALLERY