East Carolina Holds on to Capture 33-30 Victory Over N.C. State.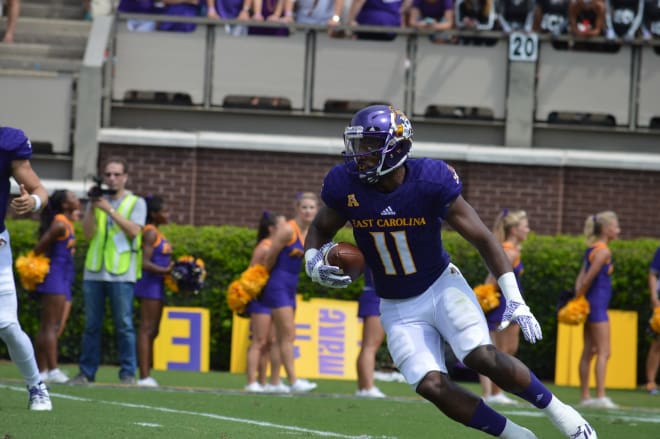 Anthony Scott scored on a five yard run with 5:49 left to play to lift East Carolina past N.C. State 33-30 in Dowdy-Ficklen Stadium Saturday afternoon.
"What a great game. I've got to take my hat off to Coach Doeren and N.C. State, good football team. They were as physical as advertised. A lot of times we couldn't get them on the ground. Sometimes we couldn't block them, but what we did do today is we played together," said ECU head coach Scottie Montgomery.
Scott teamed up with James Summers and Devin Anderson for 148 yards of rushing while ECU quarterback Philip Nelson rolled up 297 yards on 33 of 43 passing despite being knocked silly on one play. The completions and attempts were a personal best for Nelson including a 25-yard touchdown strike to Scott with 4:26 to go before halftime.
"Tough as nails. When he came off the field he was yelling at me let's go. It is always about protection of the quarterback," Montgomery told PirateIllustrated.com, "I think they tried to protect him, but unfortunately this is football and he got hit. But he came back and did some really good things with the football. Third downs were great in the second half."
The Pirates scored the first nine points of the game on a Davis Plowman field goal and a 27-yard James Summers touchdown run with 5:39 in the first quarter. Then Plowman connected on a 43 yarder to extend the ECU lead to 12-0.
But a pair of Wolfpack touchdowns from Reggie Gallaspy on a 37 yard scamper and a five yard run from fullback Jaylen Samuels gave N.C. State a one point 13-12 lead when Lyle Bambard's point after kick attempt failed.
The Pack struck again on an 80-yard strike from Finley to wide receiver Stephen Lewis to give N.C. State a one point 20-19 lead going into the locker room at intermission.
Kyle Bambard added to the State lead with a 30-yard field goal midway through the third quarter, but Summers dragged defenders into the end zone on a 15-yard touchdown run that helped the Pirates reclaim a 26-23 lead.
The Pack was able to score again just two minutes into the fourth quarter when Finley's 15-yard touchdown gave the Wolfpack the lead again 30-26.
The Pirate defense stiffened in the fourth quarter (after Scott's 5-yard run with 5:49 to play) giving the football back to the Pirates where they burned up several minutes of clock late in the contest giving the Wolfpack just over a minute to try to score at the end. Ultimately State was unable to advance the football very far before time ran out on the clock giving ECU the win.
"We had some lapses on defense and our offense picked it up. Our offense had some lapses and not being able to block them, the defense made some really critical stops," Montgomery said.
Ryan Finley went 20 for 31 for 253 yards with one touchdown pass while Matt Dayes ran for 103 yards on 14 carries to lead the Wolfpack offensive effort. Jaylen Samuels caught five passes for 41 yards and Stephen Lewis had 142 yards on just three catches including an 80 yard touchdown reception.
It was the second straight win to open the season for ECU and sixth straight victory over ACC schools. The victory also marked the Pirates' third straight win over the Wolfpack.