East Carolina Picking Up the Pace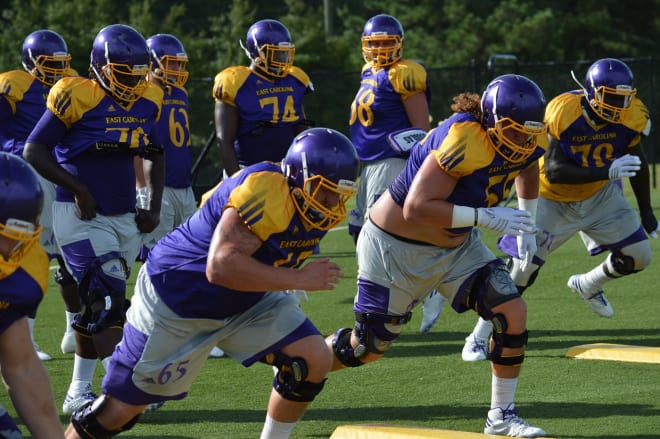 Catch our Thursday audio interviews with ECU head coach Scottie Montgomery and ECU offensive guard Garrett McGhinn and more as PirateIllustrated.com coverage of the 2016 fall football camp from Hight Field continues.
After what was a less than impressive practice on Wednesday, the ECU coaching staff had to get after the squad and challenge them to have a great Thursday.
"We really motivated them last night to let them know what we're trying to accomplish, first year head coach Scottie Montgomery said, "We motivated our coaches and motivated everybody that you can't put together three or four practices and start feeling sorry for yourself and have a dip. Happens in the season. Can't do it. We're not going to allow it."
Apparently the kick in the pants did the trick for the Pirates as they went through a successful and snappy two-hour morning workout at the Cliff Moore Practice Complex.
"That was a good day of work, but you know we shouldn't have to use the tactics that we had to use between last night and tonight to get a great day of work. Great teams come out and they work hard despite the circumstances," Coach Mo told PirateIllustrated.com.
"You can't come out and have a bad practice last night and then have a fantastic one today. That's inconsistent. We've got to start stacking great practices."
East Carolina will sport a jumbo sized offensive line this season. 6-4, 306 pounder J.T. Boyd is starting to play more at center. Along with 6-8, 325 pound Brandon Smith and 6-5 320 pound Messiah Rice is 6-6, 320 pound Tallahassee product Garrett McGhinn who as a sophomore looks more like a fifth year senior.
"I love it. I love being on the blind side on the interior. It's different for me, but I'm learning to like it a whole lot - being able to get some kill shots in there and just play rough being in the trenches," McGhinn said.
McGinn and his offensive line cohorts continue to make progress under newly hired offensive line coach Geep Wade. McGinn, who is traditionally a tackle is adjusting to his role at left guard.
"Camp has been very good not just for myself but for all of the guys. We're taking and getting a lot of coaching and a lot of individual periods. We're just trying to make sure we can transfer that over into "team run" and "blitz pickup" so we can use it in the game," McGinn said to PirateIllustrated.com.
McGhinn says he is very confident and can't wait for the first game of the season against Western Carolina coming up in two weeks. He talks about learning under three different offensive line coaches in his time at ECU so far in the complete interview below. That and more from ECU head coach Scottie Montgomery as PirateIllustrated.com coverage of ECU fall camp continues.
SCOTTIE MONTGOMERY RECAPS THURSDAY PRACTICE
OFFENSIVE GUARD GARRETT McGHINN TALKS OFFENSIVE LINE
_____________________________________________________
Join PirateIllustrated.com as a premium member and stay up to date on the very latest scoop in football, basketball, recruiting and more!