East Carolina Sinks Hampton 68-49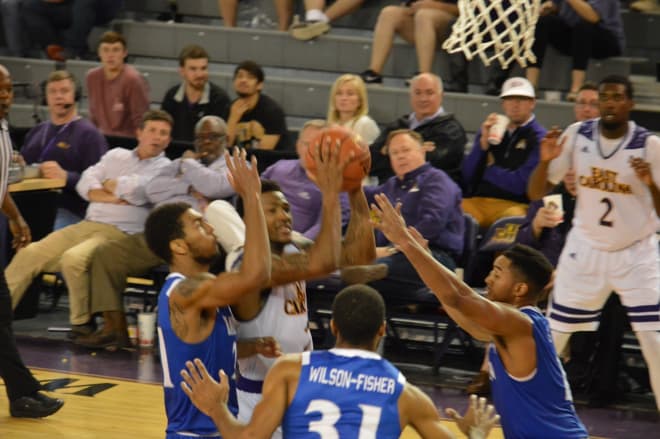 B.J. Tyson poured in 17 points and dished out five assists to go along with 13 points and five blocked shots from big 7-1 Andre Washington who led ECU to a 68-49 win over Hampton Tuesday night in Minges Coliseum.
Tyson went 5-13 from the floor, but that wasn't indicative of the night he had as he got to the charity stripe eight times all told and hit seven of them in the victory. Kentrell Barkley added 12 for the Pirates who moved to 6-2 with the victory while Hampton fell to 1-6 for the year with the loss.
A lot of Tyson's points came in the lane in the fast break and at the free throw line.
"Watching film and just reading their defense, they're not a really good defensive transition team so Coach Lebo was telling us to rebound it and just attack," Tyson said, "When I caught it or when they pitched the outlet (pass) to me, I looked up and the lanes were open so I just went for it."
Jermaine Morrow led Hampton with 12 points and five assists while Tevond Barnes added 11 and A.J. Astroth pulled down 12 boards in the loss.
For Jeff Lebo, getting another win is always a good thing and tonight's win was the Pirates' sixth of the still young, pre-holiday period. ECU started off a little slow, but managed to pick up the pace in the second half.
"After not a great half not taking care of the basketball, I thought we did a a much better job in the second half getting shots. Defensively I thought we were awfully good, particularly in the second half," Jeff Lebo told PirateIllustrated.com after the game, "In the last thirteen minutes they might have had one field goal. Defensively we were solid."
"We did a good job on Morrow the freshman who went 5 of 23. He can get it going. B.J. (Tyson) and Shep (Jeremy Sheppard) did a good job on him. We just turned the ball over so much in the first half and missed some easy shots on the break but when we got good ones we put the ball in the basket and shot 51 percent. "
ECU jumped out to a quick 7-0 cushion before Hampton took advantage of six early Pirate turnovers to cut the lead to 9-8 on an A.J. Ashtroth basket with 14:10 to go in the first half.
Hampton took their first lead of the game, 10-9 on a Charles Wilson-Fisher bucket and again at 15-12 on a Trevond Barnes jumper. ECU took as much as a three-point lead on an Andre Washington basket with just less than eight minutes in the half. Hampton then managed to tie the game on three separate occasions.
Despite hitting just over 58 percent of their shots, 13 first half ECU turnovers kept things close. B.J. Tyson heated up with a pair of baskets and four free throws down the stretch to give ECU an eight-point 36-28 halftime lead.
Tyson led ECU with 12 first half points while point guard Jeremy Sheppard hit all three of his shots and his only free throw for 7 points in the first twenty minutes. Jermaine Morrow matched Tyson's with 12 points in the first period to go along with four assists for Hampton.
Trevond Barnes speared a Hampton run to trim the ECU lead to 38-35 before Andre Washington scored in the paint and a Caleb White dunk pushed the Pirates' lead back out to seven at 42-35 with 15:28 to play.
Far fewer second half turnovers and a pair of ECU jams from Caleb White and B.J. Tyson helped ECU maintain that seven point lead at 48-41. Two Tyson free throws and a Washington dunk off a feed from Jeremy Sheppard expanded the Pirate lead to 52-42 at the 9:18 mark. ECU continued to take advantage of Hampton fouls and a Clarence Williams trey from the right corner and a subsequent Williams jumper put ECU up 66-45 late in the game.
ECU got 34 of their points in the paint and hit 51 percent from the floor. They hit 68.2 percent from the foul line which made up for 25 percent shooting from the arc on 3 of 12 shooting. Hampton was limited to 28.1 percent from the floor and just 3 of 22 from the arc and only managed to hit half of their twenty free throws which made the going tough.