East Carolina Soars Past Eagles 69-56 for 7th Win of the Season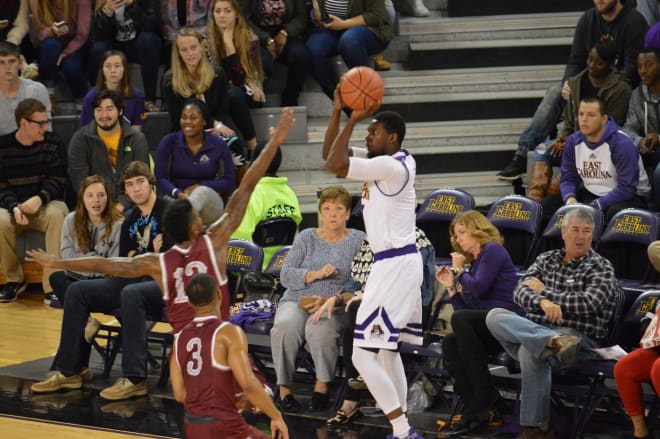 GREENVILLE - Caleb White poured in 20 points and freshman point guard Jeremy Sheppard continued his maturation process with 13 points, eight assists and just two turnovers in ECU's 69-56 win over N.C. Central Saturday night in Minges Coliseum.
Sheppard is getting a little better every game and he will have to as ECU will need solid play at the point if they are to continue to have success in the games to come.
"The first couple of games I was pretty shaky. I was trying to get into it and get into the fast pace of playing at the next level, listening to my coach and just being myself and always playing hard," Sheppard told PirateIllustrated.com after the win.
White had another solid night, hitting 8 of 15 from the floor including 4 of 6 from long range for a Pirate team that led the whole game but for one early two-point lead by the Eagles. Central was led by Patrick Cole's 16 points while Rashaun Madison and Dajuan Graf added eleven points each for the Eagles who fell to 5-3 with the loss.
"It was good. They've played a lot of good teams. They took Ohio State to the wire and beat Missouri on the road. Their RPI was top 20 in the country so it was good to beat a team like that," White said after the game, "They've already got road wins under their belt, so I think it was good to get that one. I was pleased with the game in that at no point in the game did they have control. We had them on their heels the whole time. We defended really well."
For Jeff Lebo, picking up the seventh win of the year against just two losses puts his Pirates in a pretty good place heading into the meat grinder of a schedule soon to come.
"It was a good win for the Pirates against a good North Carolina Central team. I've got a lot of respect for LeVelle (Moton), his program and how he does his work. Watching them on film I was really, really impressed," Jeff Lebo said after the game, "They've got a really experienced group. They're older, they're tough, they defend, they run their stuff, but I was real pleased with our energy this game. Obviously when you take Ohio State to the end and you beat Missouri on the road that gets the attention of your team."
Lebo talked about some of the ingredients that went into Saturday night's win.
"Great win for us. I thought everybody on our team had a hand in it. Defensively we were awfully solid in holding them to under 40 percent. We won the battle of the boards and offensively when we didn't turn the ball over. We got pretty good looks," said Lebo, "Sheppard was terrific in this game. Two back to back of the best games he's had. Clarence (Williams) was terrific in the second half and Caleb (White) was really good for the duration of the game, so just all of them did a good job defensively."
Despite five early turnovers, ECU took an 11-6 lead in the first seven minutes of the game on a pair of Caleb White baskets and two Kentrell Barkley buckets.
A pair of Caleb White treys and a pair of B.J. Tyson jumpers, including one that put Tyson over 1,000 for his career, found the Pirates up 23-14 with 7:15 to play in the half.
Four quick points from Patrick Cole pulled N.C. Central to within six at 26-20 with 4:32 before intermission. Then Cole continued his offensive damage as the Eagles pulled to within six at 33-27 with a minute to play. But three long bombs from ECU point guard Jeremy Sheppard put ECU up by ten at halftime.
White had ten points to lead ECU in the first half to go along with nine each from Sheppard and Kentrell Barkley. Pat Cole had 8 to lead the Eagles at intermission.
Central kept the game within reach at 48-38 on baskets from Pablo Rivas and a three-pointer from Rashaun Madison. Then a Madison baseline floater along with a baseline trey from Dajuan Graf cut the ECU lead to eight at 55-47 with just under six minutes to go.
But White, Sheppard and big Andre Washington all scored twice down the stretch to give the Pirates a thirteen point win, their seventh in nine games.
ECU won the battle of the boards 43-29 and outscored Central 30-18 in the paint. The Pirates held the Eagles to just 39.6 percent shooting and just under thirty percent from the arc while connecting on nearly 47 percent from the floor including 8 of 18 from three-point land in the win.
For N.C. Central coach LeVelle Moton, it's been a long week with the death of the school's chancellor Debra Saunders-White on November 26th who endured a year-long battle with cancer. The team arrived in Greenville about 45 minutes before tip off.
"It's just been a long week for us. A long week. Blame this one on me. I wasn't as prepared as we wanted to be. But we're an experienced basketball team and nobody cares about problems or excuses. We were outplayed in all aspects and out coached. They were just better and they were tougher. We pride ourselves in competing at the highest level and we just did not do that tonight," Moton said, "The most critical indication of that was offensive rebounds. They had 16 and they out rebounded us overall by 14. That's the ballgame right there. They're good enough, they don't need any help. Hats off to East Carolina, they brought the fight to us and they prevailed."
The bottom line is it comes down to hitting shots and sub 40 percent shooting made life tough on the Eagles Saturday night.
"Basketball is a unique game. There is only one way to score. I don't care how hard you're defending, that ball has got to go in that hole. Too many times we allowed the ball to dictate our mood," Moton told PirateIllustrated.com, "When it's going in, we're ready and we're slapping the floor, but it's hard when you're missing open shots, missing free throws and missing layups to go back and have that same energy and passion on the other end. That's the passion we have to have."
The Pirates return to action next Tuesday night in Charlottesville when ECU takes on Virginia at John Paul Jones Arena.
After the game PirateIllustrated.com was there to bring you the post game press conference audio from ECU head basketball coach Jeff Lebo along with Pirate players Caleb White, Jeremy Sheppard and N.C. Central head coach Levelle Moton along with a PI Photo Gallery.