East Carolina Weathers Red Storm in 7-4 Victory over St. John's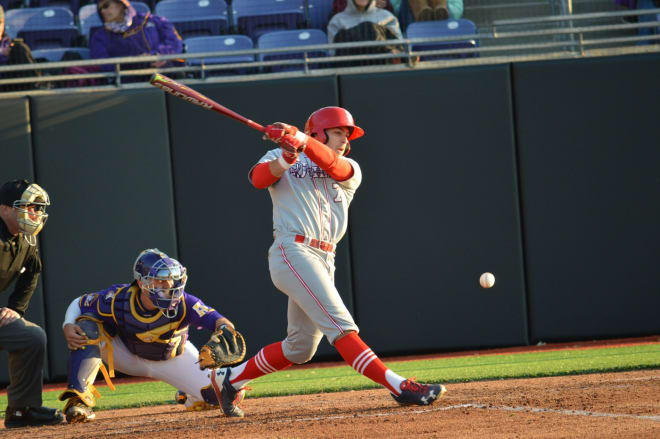 GREENVILLE - Ninth ranked ECU scored four runs on four hits in the bottom of the eighth to break a 3-3 tie and held on to pick up a 7-4 win over 16th ranked St. John's on day two of the Keith LeClair Classic.
The Pirates have won the last seven straight and hand the Red Storm their first defeat of the season after nine straight victories.
Travis Watkins lined a single past Robbie Knightes at third base to get things started for No. 9 ECU in the eighth. Big 6-4 Aaron Herr came on in relief for the St. John's to face Kirk Morgan who chopped to the right side to advance Watkins to third base on a hit and run. Dusty Baker came on to pinch run for Kirk Morgan at first base where he then stole second base.
Red Storm reliever Turner French's wild pitch scored Watkins to give ECU a 4-3 lead and advance Baker to third base. Pinch hitter Brady Lloyd's two-out walk brought up Charlie Yorgen who also walked. Then Turner Brown singled a 3-2 offering off of Turner French to win the battle of the Turners and score two runs to give ECU a 6-3 lead.
St. John's lifted French for their fourth pitcher of the frame in right-hander David Moyer. Eric Tyler's slow rolling bunt to third scored Yorgen to extend the Pirate lead to 7-3.
Sam Lanier(1-1) picked up the win for ECU(7-4) while Joe LaSorsa(1-1) suffered his first loss of the season for St. John's.
"It's more nerve racking watching on a computer than watching in the dugout," said ECU coach Cliff Godwin who was tossed after a questionable balk call in the 5th inning, "Kirk Morgan, we have a lot of confidence in him. Really proud of him and I'm really proud of our guys who fought and persevered tonight. Really proud of Matt Bridges, Sam Lanier and then Tyler Bridges coming in and sealing the deal."
It was a postseason kind of vibe in Clark-LeClair Stadium between two nationally ranked teams and a win that will pay both immediate dividends for the Pirates and as the season progresses.
"I just think it gave us a regional type atmosphere. There was a lot of electricity in the stands and that's fun. I get chill bumps talking about it. It's fun and it's competitive. You're riding on every pitch," Godwin said, "Every pitch is the difference between winning and losing and your at-bats are the same way. It will prepare us for down the road."
The Pirates got on the scoreboard first in the bottom of the first inning when Charlie Yorgen scored off of a Luke Bolka's single to right center to give ECU a 1-0 lead. Josh Shaw answered for St. John's in the top of the third inning with a base knock off of Jacob Wolfe. Jesse Berardi scored on the play to tie the game at 1-1.
St. John's took advantage of a pair of bobbles in the ECU infield before starter Jacob Wolfe was lifted with runners on first and second with no outs in the top of the fifth. Pilot Mountain freshman Tyler Smith then came on for the Pirates and struck out a pair of batters before a balk was called on Smith for not coming to a complete stop by home plate umpire David Prichett. That scored Berardi to give the Red Storm a 2-1 lead.
ECU head coach Cliff Godwin then came out of the dugout, protested heavily at home plate after the play and was ejected by Prichett.
St. John's Mike LePresti hit Charlie Yorgan with a pitch in the bottom of the fifth before Turner Brown singled for ECU. Yorgan was tagged out at third base on an Eric Tyler grounder, but his overthrow to first advanced Brown to second. After LePresti hit Bolka with a pitch to load the bags, Spencer Brickhouse was plunked by LePresti on his 89th and final pitch to tie the game at 2-2.
Red Storm sophomore sidearm right-hander Joe Kelly came on in his third appearance of the season. Kelly's wild pitch to Travis Watkins scored Tyler to give ECU a 3-2 lead before Watkins fanned and stranded a pair of Pirates to end the fifth inning.
John Valente then doubled to score Baselli to tie the game again at 3-3 in the top half of the sixth.
After the Pirates scored four runs in the eighth and a Brocato ground rule double for St. John's, Matt Bridges came on in relief for Sam Lanier. Bridges yielded a single to center to Josh Shaw and a single to Donadio that scored Brocato to cut the ECU lead to 7-4. Jamie Galazin then struck out for the Red Storm to end the game.