ECU Advances in AAC Tourney Behind 26 Points from Barkley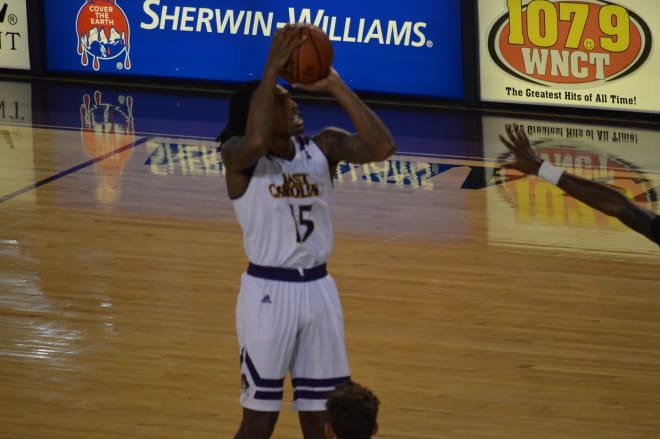 Kentrell Barkley's double-double and career high 26 points to go along with 17 from Elijah Hughes and 11 big second half points from Caleb White led ECU to a 80-69 victory over Temple in the first round of the AAC Basketball Tournament at the XL Center in Hartford.
Michel Nzege's seven points from his power forward position to go along with six rebounds also proved crucial in the Pirate victory.
Barkley went 9 of 17 from the floor, 3 for 6 from the arc and nabbed an AAC Tourney record 16 rebounds for a Pirate team that hit nearly 51 percent of their shots in ECU's 15th win of the season. ECU held Temple to just under 37 percent from the floor and just 9 of 29 from the arc.
Obi Enechionyia scored 20 points to lead four Temple scorers in double-figures.
Barkley, the 6-5 Durham sophomore, tweaked his knee before the game, but didn't let it stop him from playing his best collegiate game as a Pirate.
"I've been dealing with tendonitis and when I jumped off in warmups I hurt it pretty bad. When I do that, I kind of have to limp because I'm in so much pain," said Barkley, "This is tournament time, everybody's got to play now and I just wanted to come out and give it my all and help my team out as much as possible. Now we've just got to bounce back and take it a day at a time."
Big 7-1 Andre Washington added two rejections to his East Carolina record total of 94 blocked shots this season to go with a perfect 3 for 3 from the floor for six points.
"It's good to see. Our guys played loose like they didn't have anything to lose. But I shared with the guys that we had a lot to lose. We want this season to continue and feel that feeling you get when you go into the locker room after a victorious win," said interim ECU head coach Mike Perry, "We're fighting to keep the season going and that connection when you've won. We had a lot to play for. We didn't want it to end. We were very determined and very dialed in."
Perry talked about Barkley's record performance in round one of the AAC tournament.
"For me that was one of the best performances I've ever seen considering what was happening out there. He came out of the game at the twelve minute mark and came into the locker room at halftime and he was limping in. Kentrell told me he tweaked his knee during the warmups and he's had some knee problems, so Nate the trainer put the work on him and told me I don't know if we're going to have him or not, Coach. He got him on the bike prior to the game and he was able to go."
ECU held Shizz Alston to just eleven points on just 5 of 13 shooting and down the stretch, some good Pirate strategy helped dictate that outcome.
"We put a bigger defender on (Shizz) Alston who was beginning to feel it offensively and his size was an issue on (Jeremy) Sheppard at 6-4," said Perry, "We pretty much stopped him at that point. We had to change it and give them a different look if nothing else."
ECU(15-17) jumped out to an early five-point 14-7 lead three-pointers from 6-10 Deng Riak, two Kentrell Barkley treys and another from Jeremy Sheppard. Two Andre Washington baskets in the paint had the Pirates up 18-10 with just under twelve minutes to go in the half before he went out with an ankle sprain at the 11:24 mark.
Two Obi Enechionyia baskets and a Quinton Rose drive for the Owls cut the ECU margin to one at 19-18 before Barkley's basket in the paint and a Jeremy Sheppard crossover jumper pushed the Pirate lead back to five at the 6:46 mark.
An Enechionyia jump shot and subsequent half hook in the lane for his twelfth first half point kept Temple(16-16) within four at 26-22 before four ECU buckets gave the Pirates a nine point 35-26 cushion late in the half. Barkley's fourteenth first half point then gave ECU a seven-point 36-29 lead at intermission.
ECU hit nearly 47 percent from the floor in the first twenty minutes. That included 6 of 14 shooting from the arc while holding Temple to just 31.3 percent shooting and only 4 of 14 from three-point land. Barkley had nine first half rebounds for the Pirates.
Barkley's drive had ECU up by six before baskets from Alston, Moore and Quinton Rose helped the Owls slice the ECU lead to one at 53-52 with 10:53 to play.
But an 8-2 ECU run keyed by two Elijah Hughes baskets and Caleb White's second trey of the half suddenly found ECU up by seven at 61-54. Then Elijah Hughes knocked down four straight free throws before a Michel Nzege basket in the paint ballooned the Pirate lead to nine at the four minute mark.
Senior small forward Caleb White came up big late in the contest with a teardrop floater in the paint and his three big free throws gave ECU a twelve-point lead in the last minute. Then a Hughes' trey from the corner and Barkley's lay-in for a three-point play put the exclamation mark on ECU's 15th win of the season.
ECU advances to play No. 1 seed SMU in the quarterfinals tomorrow at noon.