ECU Athletic Director Jeff Compher Reacts to Big 12 Snub (PI Audio)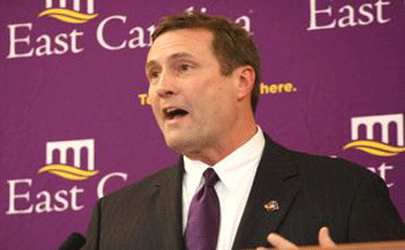 PirateIllustrated.com caught up with East Carolina Director of Athletics Jeff Compher to get his reaction to the news that East Carolina did not make the first cut for Big 12 Conference expansion.
"We got a call from the Big Twelve Commissioner Bob Bolsby to our chancellor late yesterday and we found out that we did not make their next phase in their selection process," Compher told PirateIllustrated.com, "It was obviously pretty disappointing, but what I've told people is we're very happy in that conference and our job is to win championships in that conference and I still believe we can get to a New Year's Day bowl as a result of it."
Catch the very latest here on PirateIllustrated.com...
COMPHER SPEAKS ON BIG 12 SITUATION