ECU Back in the Win Column After Picking Up an 11-7 Win Over Elon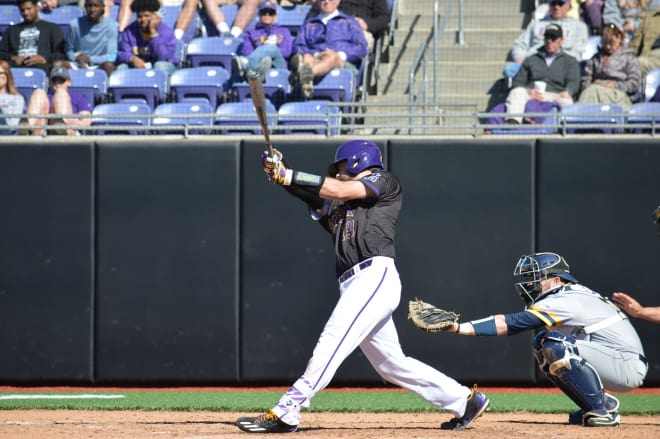 (25)East Carolina snapped their three game losing streak with a 11-7 road victory over Elon Tuesday evening at Latham Park.
Davis Kirkpatrick picked up his first win of the season for ECU while Robbie Welhaf took the loss for Elon to fall to 2-3 on the year.
Travis Watkins had a grand slam and six RBI in the victory to lead the Pirates.
"We came out early and got it going. I think we scored seven runs in the first two innings. Travis (Watkins) had a big grand slam," ECU head coach Cliff Godwin said, "Very good offensive day and we did enough on the mound."
"Davis (Kirkpatrick) gave us a solid start. Tyler Smith came in and got us out of a jam. Sam (Lanier) gave up one in like an inning and two-thirds. A solo home runs don't beat you and then Joe Ingle came in and closed the door after Ryan Ross so I thought our pitching did enough in a very small ballpark."
ECU got busy quickly in the top of the first inning when Travis Watkins doubled to centerfield to score Turner Brown. Then Eric Tyler singled on a bunt down the third base line that scored Watkins for a 2-0 Pirate lead.
Then in the top of the second frame, a Charlie Yorgen walk with the bases loaded allowed Luke Bolka to score. Then Watkins' fourth career grand slam to left center brought home four runs to give ECU a 7-0 lead.
Elon got in the act in the second inning when C.J. Young's fly ball to right field scored Kyle Jackson to make the score 7-1.
The Phoenix got a homer from Satterfield in deep centerfield off of ECU pitcher Davis Kirkpatrick before Jackson doubled down the third base line to score another run in an 7-3 contest.
Bryce Harman's fifth inning single scored Bryant Packard. Then later in the same inning Harman scored from third on a passed ball from Elon pitcher Nick Baulac to make it 9-3 Pirates.
Elon struck again in the sixth to make it 9-4 when Liam O'Regan's single up the middle scored Zach Evers.
But Charlie Yorgen's double off the centerfield wall in the seventh scored Harman. Then with the bases loaded, Travis Watkins grounded out to third and Dusty Baker dove home for another ECU run.
Kyle Jackson's homer to left for the Phoenix in the seventh stanza cut the ECU lead to six at 11-5. They scored again in the eighth when O'Regan scored on an Ogren grounder. Then Satterfield kept the Elon rally going scoring when Adcock singled to short to make it 11-7.