ECU Braces for Adventure to WVU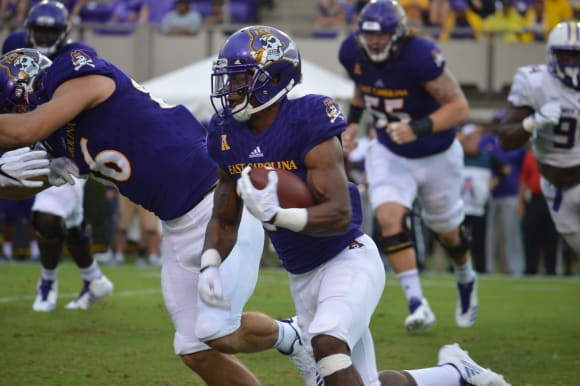 With ECU(0-1) still in the process of getting over last Saturday's 34-14 home opening loss to James Madison, things don't get any easier with nationally ranked Virginia Tech, South Florida and this week's game against West Virginia looming in the next month. And that's before they take on BYU, Houston or Memphis.
ECU comes in ranked number one in America in this week's CBS Bottom 25 Poll and that's well behind football powers such as Louisiana-Monroe, Georgia Southern, Middle Tennessee and Charlotte.
Meanwhile West Virginia played a whale of a game on Sunday before falling late to Virginia Tech 31-24 in a battle of two top 25 teams.
The Mountaineers are led by the son of a former ECU quarterback in Florida transfer Will Grier who looked more than solid both running and throwing the football Sunday night.
West Virginia will be looking to get back on the winning track and that finds the Pirates in the direct path of musket fire at Milan Puskar Field at 12 noon this Saturday.
It will be the first time the Pirates have faced the Mountaineers since a 35-20 loss to West Virginia in 2009. That season ECU went 9-5 and came within an eyelash of going 10-4 after narrowly falling to Arkansas in the Liberty Bowl in Memphis by three points 20-17.
For second year ECU coach Scottie Montgomery, it was a double dose of reality in week one. It was ECU's first loss of the season and the school's first loss to an FCS school since Montgomery was two years old and halted a streak of 25 straight victories over lower level programs last Saturday night.
"We responded the way that I thought we would. I had no doubt that we would come out and practice hard today," Montgomery said about how practice went on Tuesday, "We do things the right way.
"It's not about what we say, it's about how we play," said Montgomery.
After Duke-ing it out with James Madison last week, former Blue Devil quarterback Thomas Sirk finds himself in the crosshairs of a potent Mountaineer defense with a team that is still trying to find it's way offensively. The only guy real familiar to the Glen St. Mary, Florida senior is his former Duke offensive coordinator Montgomery who enters just his thirteenth game as a head coach.
"I just have to keep working to get to where I am to this point. I know that I have to continue to push the guys, I've got to practice even harder," Sirk said, "I'm in a position that I wanted to be but that easily can be taken away so it's up to me to come out here and work every day at practice and in the games."
Offensive coordinator Tony Petersen will be searching for clues to unlock ECU's offensive potential. That will mean pushing the right buttons and choosing the right personnel this week. He recapped what he saw offensively last week against JMU.
"Really low execution by us. I have no explanation for it. I would have bet a lot money that we would have played a lot better than that but we did a poor job of playing and executing and a poor job of coaching and we've got to get it fixed this week," Petersen told PirateIllustrated.com.
The Pirates will have the services of wide receiver Malik Gray and defensive back Colby Gore who return after being out for the season opener against James Madison.
Game time is high noon in Morgantown with Brian Custer and Ben Leber calling the action for FoxSports2 television for East Carolina - West Virginia.
Catch Coach Montgomery's post practice comments in their entirety and stay tuned for additional coverage of WVU week here on PirateIllustrated.com.