ECU Coaching Search Begins and PI Breaks Down the Best Options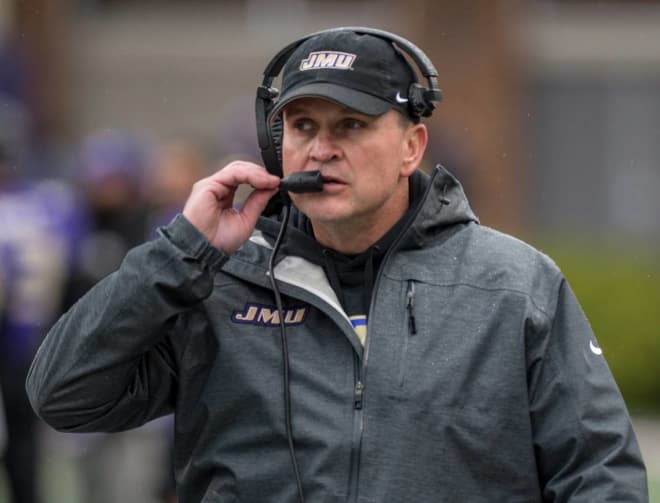 With Scottie Montgomery out as the head coach at East Carolina, the next step is to name a new Pirate head football coach. That process is already underway and could be much farther along than people realize.
All signs point to the obvious choice being Mike Houston at James Madison. Houston has enjoyed great success in the coaching profession with an 80-24 overall lifetime record including a 37-5 overall record at JMU and 22-2 in conference. He also coached at The Citadel (14-11) and Lenoir-Rhyne (29-8).
Houston has interviewed and has been offered the job at Charlotte. At this hour, he hasn't accepted that offer and it would make sense as to ECU's quick decision to pull the trigger on Scottie Montgomery. It could be because time is of the essence if ECU is to win that sweepstakes.
With both former ECU offensive line coach Steve Shankweiler and offensive coordinator Donnie Kirkpatrick who served as a wide receivers and recruiting coordinator at ECU on the JMU staff, it only makes sense that Houston would be at the top of the pecking order.
Another guy who ECU could consider is former ECU head coach, current Louisiana Tech and former USF head coach Skip Holtz. He enjoyed great success in Greenville at 28-12 with a pair of Liberty Bowl appearances, an appearance in the Hawai'i bowl along with a Papa John's Bowl bid. Holtz is currently 45-33 in six years with the Bulldogs and holds a 31-17 conference record.
Butch Jones has connections with Dave Hart at Tennessee where Hart was the athletic director. He also has connections with potential AD candidate Jon Gilbert who is at Southern Miss and spent time with both in Knoxville. Jones had a 34-27 record in five years with the Vols but went just 4-6 overall in his last year there and 0-6 in SEC play.
One guy who would be a perceptive pick is Tony Elliot who as the offensive coordinator with Clemson has been instrumental in the Tigers' success. A lot of schools will be looking at him at season's end. Whoever lands Elliot could be in tall cotton at the end of the day.
With ECU's current defensive coordinator being David Blackwell who came to ECU from Jacksonville State, John Grass would be a solid option with his winning pedigree with the Gamecocks. His 52-11 record including a 9-3 record coming into this weekend represents one of the best records in the country. Grass would probably be able to retain Blackwell if he came to Greenville and Blackwell has done a solid job of beginning the turnaround defensively for the Pirates.
The last name on our potential list is Bill Clark at the revived program at UAB. Clark has done a masterful job with the Blazers and will likely be the subject of several job searches at season's end. Clark is 34-18 in three years in Birmingham after going 11-4 in one year at Jacksonville State where he guided the Gamecocks to an 11-4 record, leading them to the quarterfinals of the NCAA Division 1 playoffs.
Among these options, if we had to choose two, Mike Houston and Skip Holtz would be the most viable, proven options.
Stay tuned for the very latest here on PirateIllustrated.com as the coaching search and hiring process gets cranked up at ECU.