ECU Delivers Comphermation of AD's May 1 Resignation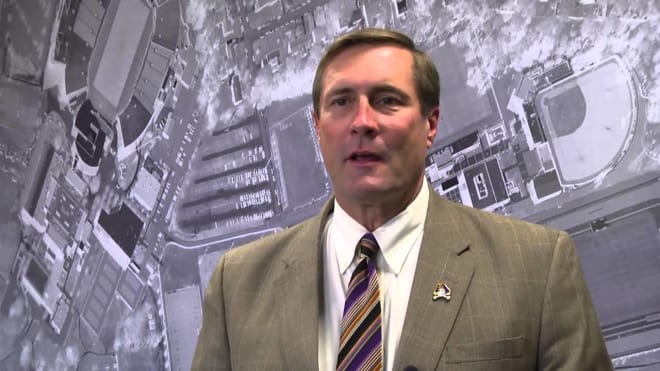 After an ECU Trustee's meeting on Friday, the school confirmed the resignation of athletic director Jeff Compher and the buyout of his five year contract with the university in the press release below:
GREENVILLE, N.C. (3/9/2018) – The East Carolina University Board of Trustees today approved an agreement between ECU and Director of Athletics Jeff Compher whereby Compher will step down on May 1, 2018.
During Compher's tenure at ECU, the university joined The American Athletic Conference in the 2014-15 academic year; moved to adidas as the official footwear and athletic wear brand in a 10-year deal which brought an increased contract over the previous partnership; added a new sport with women's lacrosse launching this season; broke ground for the $60 million Dowdy- Ficklen Southside Stadium renovation project; and Pirate student-athletes have the highest grade point average in the history of ECU and are graduating at higher rates than the general student body.
"I want to thank Jeff Compher for his service to ECU and Pirate Nation over the past five years. Jeff has worked hard and has accomplished much in his time here, and our athletics department and student-athletes are far better off as a result of Jeff's efforts. I'm particularly proud of the success our student-athletes have accomplished during Jeff's tenure. I wish Jeff and Cathy all the best in their future endeavors," said ECU Chancellor Cecil P. Staton.
Compher is eligible to be paid over five years ending April 30, 2023 up to a total of $1,262,500. The payments, if made in full, equate to 50 percent of the base salary and 50 percent of the supplemental pay he would have earned if his employment had continued through the contract term. The payments reduce by $912,500 the amount he would have been paid if he were terminated without cause. He will also be paid for accrued, payout-eligible leave and any bonuses that are earned and unpaid as of May 1.
The agreement requires that Compher make reasonable efforts to obtain a new position in an athletics-related position in order to reduce ECU's obligation to pay. The university's payments would be reduced on a dollar for dollar basis after he earns $192,500 per year at a new position.
While the university is unaware of any violations of law or policy, it has retained the right to stop ongoing payments if it learns that Compher committed any Level 1 or II NCAA violations or his coaches did so with his knowledge. Payments would be terminated, as well, if crimes or policy violations harmful to the university were discovered to have occurred during his leadership as AD. ECU is waiving his obligation to pay liquidated damages for resigning from his ECU employment prior to the expiration of his contract.
Compher led the university through an extraordinarily challenging five years, including the complexities and financial investments involved in a change in conferences, a major increase in costs due to a new state law regarding recruits from out of state, an NCAA rules change that added $1 million in cost and other challenges, and a significantly smaller budget than our conference peers ($17 million less on average annually), Staton said.
Staton said the search for a new Director of Athletics will begin immediately, and interim leadership will be announced soon.