ECU Earns 9-2 Victory Over Duke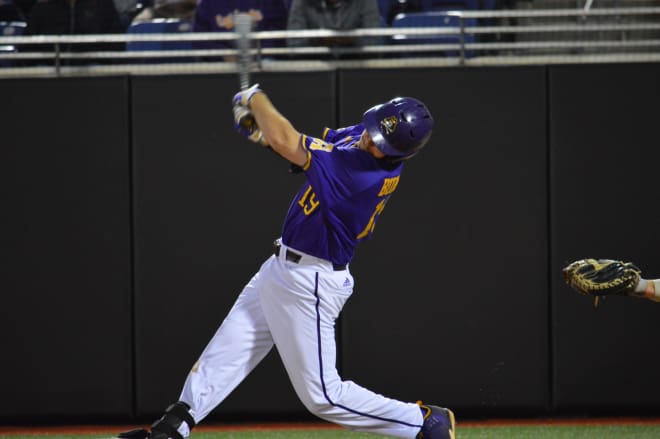 (11)ECU traveled to Jack Coombs Field in Durham Tuesday night and in a battle of two top 11 teams, came away with a convincing 9-2 victory over (8)Duke.
ECU lefty Jake Agnos(4-2) lasted through one batter into the sixth inning on the mound for the Pirates to pick up the victory. Agnos yielded just three hits and one run with five strikeouts before Ryan Ross and later Gavin Williams came on in relief for the Pirates.
"I wanted to go out there and fill up the zone and let my defense play. When the offense goes out there and puts nine runs up it doesn't matter what you do on the mound. You just go out there and do your job and let your defense play and let the hitters hit," Agnos said afterward.
"That was the first time this year when I started going glove side two-seam but it was effective and it was getting weak contact so that's something Coach Roszel and I have been working on. It's fun," said Agnos, "It seems like every outing I'm getting better and better so it's an experience and a process. I've enjoyed it and it's fun playing with these guys. They're awesome."
Jake Washer and Dwanya Williams-Sutton both had three hits for ECU to lead a 15 hit attack while holding Duke to just six hits for the evening. Sutton added three stolen bases for the Pirates.
Duke starting pitcher Bill Chillari(5-1) went just four innings, giving up five hits and a pair of runs to absorb his first loss of the season before a bevy of four Blue Devil relievers saw action Tuesday night.
Cliff Godwin's team picked up a much needed win against a top ten opponent which puts ECU back in good position entering this coming weekend with an AAC series coming up in Memphis.
"It all starts on the mound and I thought Jake was really good. He gave up a run in the first and got back in and threw three pitches for strikes. Ryan Ross did a great job, Gavin did a great job and offensively their guys are tough. They've been really good on the mound all year," Godwin said, "I thought our guys had a lot of tough at-bats and they executed what we were trying to do."
"I just think the guys were really locked in. We talked about yesterday where we need everybody to help us win even if you're not on the field. Guys were really engaged and we had a lot of intent tonight," said Godwin, "We had a bunch of stolen bases and that's the thing we talk about. If they're giving it to us, we're going to take it. Burleson had two stolen bases, I think Dwanya had three and we put a lot of pressure on them on the base paths."
A Zack Kone pop fly in the first inning brought Jimmy Herron across home plate to give the Blue Devils an early 1-0 lead.
ECU's took a 2-1 lead in the top of the fourth when Connor Litton doubled to left and Jake Washer scored. Then Litton stole third before scoring on a throwing error.
In the fifth frame, the Pirates were at it again when Brady Lloyd reached first on a bunt and Duke reliever Bryce Jarvis' throw to third base got away from third baseman Jack Labosky and Drew Henrickson scored to make it 3-1 ECU. Then a Spencer Brickhouse one out sacrifice grounder to the right side of the infield made it 4-1 when Bryant Packard crossed home plate.
The Pirates scored again in the sixth to make it 5-1 when an Alec Burleson base knock brought Dwanya Williams-Sutton home.
Back to back Duke doubles from Joey Loperfido and Kennie Taylor in the bottom of the seventh produced a run to cut the ECU lead to three.
But ECU loaded the bases in the ninth and scored a pair of quick runs in the frame to make it 7-2 when Jake Washer singled off the glove of Duke reliever Matt Mervis and both Packard and Henrickson scampered home. Then Spencer Brickhouse's first hit of the night and second RBI of the game made it 8-2.
The Pirates then loaded the bags once more later in ninth with no outs for Dwanya Williams-Sutton who grounded into a double play, but Jake Washer scored to put ECU up by a touchdown to seal the victory.