ECU Eliminated in NCAA Regional in a 9-7 Loss to UNC-Wilmington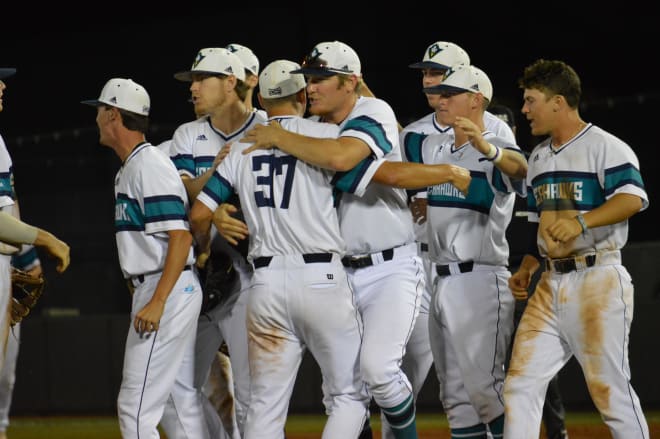 UNC-Wilmington's nine run fifth inning helped the Seahawks erase a five run ECU lead and they went on to earn a 9-7 win to keep their hopes alive Sunday night in the NCAA Regionals in Greenville.
Henry Ryan(3-0) picked up the win, Blake Morgan got his first save of the season while Ryan Ross(4-5) was credited with the loss in just two-thirds of an inning of work for ECU(44-18).
"Unbelievable effort from our guys. We knew we had our work cut out for us coming off the break down three-nothing. We weren't able to get a stop right out of the gate," said Seahawk coach Mark Scalf.
"They rolled two more on the board and the guys begin to put our bats together. Jackson Meadows got a leadoff single. Zack (Canada) comes off the bench with a huge double and really got that inning going and had another double before that inning was over with."
"Canada was certainly a difference maker for us as a senior coming in off the bench prepared to play. He made it a phenomenal play on the back end up the middle and one on a shallow fly ball."
Turner Brown's base hit to centerfield scored a pair of ECU runs in the top of the second inning. UNC-Wilmington(39-22) starting pitcher Landen Roupe was then pulled in the second inning for left-hander Justin Walke after giving up six hits and a pair of runs.
All told, ECU scored three runs in the second frame when Dwanya Williams-Sutton's sac fly to left brought Turner Brown across home plate from third base.
Then after what proved to be a five hour rain delay, Zach Barnes took the mound for Jake Agnos who had gone three and two-thirds innings with six strikeouts for ECU.
Drew Henrickson's blooper to centerfield brought in another ECU run in the top of the fifth to make it 4-0 Pirates. He advanced to second on the throw and then stole third base. Then Alec Burleson's sacrifice bunt allowed Henrickson to score from third to increase the ECU lead to five.
But with the bases loaded in the bottom of the fifth, Zach Barnes walked in the Seahawks' first run of the game prompting Cliff Godwin to bring in big lefty Ryan Ross. The Seahawks would go on to score nine runs in the frame to erase a 5-0 deficit and take a 9-5 lead.
The Pirates fought back with a pair of runs in the seventh to trim the lead to two when Alec Burleson singled to right scoring Spencer Brickhouse before a Connor Litton ground out allowed Jake Washer to score.
But in the end the UNC-W lead held up and they will advance to take on South Carolina on Monday. The Gamecocks have yet to lose a game in the regional so it's winner take all if they win and they would advance to the NCAA Super Regionals next Friday. If Wilmington manages to win, a second game will be played to decide the winner of the double elimination regional.
"I want to thank Pirate Nation for coming out last night and tonight. Late nights and rain delays. Just the atmosphere was awesome and everything we could have dreamed of in hosting a regional to have that kind of atmosphere. Secondly I want to take my hat off to Coach Scalf and UNC-Wilmington for being down five nothing and battling back," said ECU head coach Cliff Godwin.
"If I have to lose, I want to lose to a guy like Coach Scalf who obviously gave me my first opportunity as a coach in the collegiate profession and a guy who has ran his program the right way for a long time."
"I'm proud to be the head coach at East Carolina because of the kids we have in this program," Godwin said, "This sucks because a lot of people put in a lot of hard work and effort into this program every single day and it's a tough pill to swallow, but I just want our guys to be remembered as champions because that's what they were at the end of the day."