ECU Faces Tough Football Schedule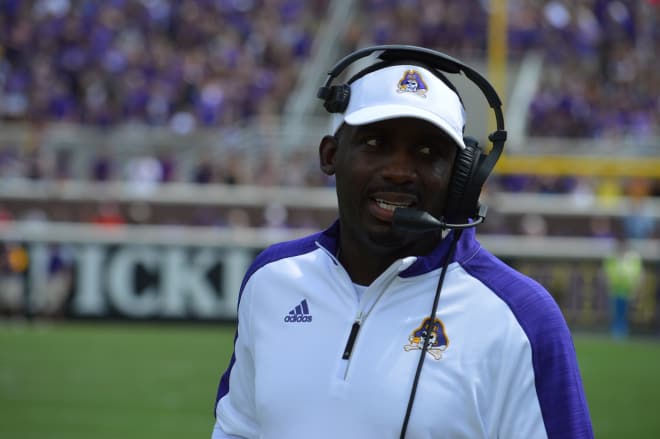 The American Athletic Conference announced the 2017 league football schedule on Thursday.
East Carolina faces a tough task as they will take on nine teams who made it to post season play last year and have a seven game home schedule. ECU gets a bye week in week four.
The Pirates take on FCS national champion James Madison to open the season and will take on a pair of Power 5 conference teams early in the season against West Virginia and Virginia Tech.
Homecoming is scheduled for October 21 against BYU. ECU will play four of the first five games at home while the Pirates will hit the road in three of the last five regular season games of the season.
2017 ECU FOOTBALL SCHEDULE
Sept. 2 - JAMES MADISON (PC)
Sept. 9 - at West Virginia
Sept. 16 - VIRGINIA TECH (FW/Paint It Gold)
Sept. 23 - BYE
Sept. 30 - *USF (FS)
Oct. 7 - *TEMPLE (HOF/Paint It Black)
Oct. 14 - *at UCF
Oct. 21 - BYU (HC/Paint It Purple)
Oct. 28 - *at Houston
Nov. 4 - *at Connecticut
Nov. 11 - *TULANE (MIL)
Nov. 18 - *CINCINNATI (SD)
Nov. 25 - *at Memphis
ABC/ESPNHome games in ALL CAPS; *American Athletics Conference game; PC-Pirate Club Day, FW-Family Weekend, FS-Faculty-Staff Appreciation Day, HOF-Hall of Fame-Letterwinners Day, HC-Homecoming, MIL-Military Appreciation Day, SD-Senior Day; Dates are subject to change pending finalization of television scheduling