ECU Falls 55-52 To High Point For Tubby Smith's 600th Victory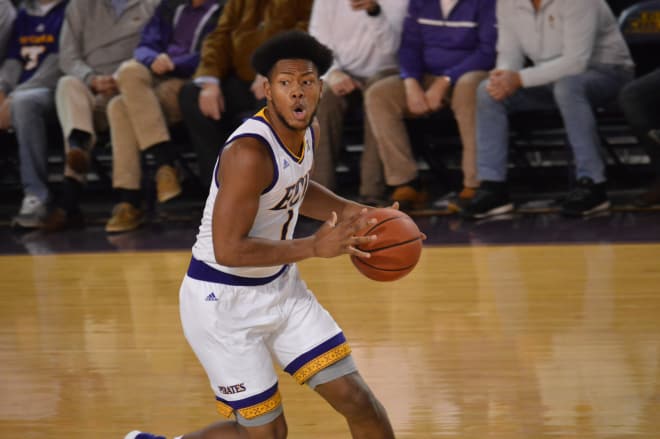 Tubby Smith picked up his 600th victory in this his 28th year of coaching when his High Point Panthers held on to beat ECU 55-52 Saturday night in Minges Coliseum.
Iona transfer Jahaad Proctor led all scorers with 20 points for High Point to go along with nine points each from Jamaal Wright and Brandonn Kamga in the win.
Jayden Gardner did his part for ECU with 18 points on four of seven shooting from the floor and hit ten of twelve from the free throw line in the contest. Shawn Williams scored eleven and Isaac Fleming added nine for the Pirates who suffered their third loss of the young season to dip to 4-3.
The Panthers enjoyed an 11-4 edge on the offensive glass and that told much of the tale down the stretch. Two missed Jordan Whitehead free throws gave ECU a chance to tie the game at the end, but K.J. Davis missed jumper from the arc at the buzzer and High Point took the victory.
"We've got to learn a lot of different things. I thought the main difference in all honesty was their offensive rebounding. I thought it gave them extra possessions. We couldn't finish out. We gave up three offensive rebounds off of free throws which you should probably give up about three offensive rebounds from the free throw line in a season," Joe Dooley said afterward, "It's something we've emphasized and we didn't execute. They were very physical and did a nice job of rebounding the ball."
High Point generated four more shot attempts, five more shots from the stripe and despite having a lower shooting percentage than the Pirates, it proved to be just enough to hold on for the win. Typically 13 turnovers wouldn't be enough to cost a team a win but High Point only turned it over nine times which also was a big help for the Panthers in the victory. Neither team hit a three-pointer in the second half.
"We need to be more alert in a lot of regards. Some of that is inexperience, but we need about two weeks of practice and get better at a bunch of things," said Dooley, "I thought in the first half we had some good looks that we turned down. We didn't shoot it well in the first half. We missed a couple. K.J. had a couple of good looks and I thought Shawn Williams had a couple of good looks and we didn't shoot it and that's the thing we need to do."
"I thought we shot free throws well with the exception of the latter part of the game. We guarded well for the most part. 38 percent and lower than that at the three-point line and giving up 55 points in your building is usually good enough to win."
High Point(3-3) played an impressive brand of disciplined basketball in the first twenty minutes of action. Jahaad Procter's turnaround jumper along with two baskets from Jamal Wright and a Curtis Holland layup quickly had High Point up 9-6 in the early going of the contest. Then a pair of Proctor treys extended the High Point lead to as much as 15-8 with 13:31 to go in the half.
Two Isaac Fleming buckets along with an ECU basket from Dimitri Spasojevic kept ECU within seven points at 20-14 midway through the first period. Then the two teams traded baskets later in the half when Ricky Madison connected on an up and under and Dimitri Spasojevic connecting on a baseline jumper for ECU as High Point maintained a five point cushion with five minutes to go in the half.
Late in the first period, Shawn Williams hit his third trey of the half for a game leading ninth point on a deep baseline jumper that helped the Pirates crawl back to within three at 27-24 at halftime. Procter had eight halftime points to lead the Panthers in a game where both teams hovered around 40 percent from the floor and just 50 percent from the stripe heading into the locker room.
Proctor, Whitehead and Wright all scored early in the second half before two Gardner baskets got ECU back within five at 33-28. Gardner then picked up his third foul just four and a half minutes into the period.
The Pirates pulled even closer when Isaac Fleming's three-point play in the paint trimmed the High Point lead to just two with 14:10 to go. But a pair of Panther free throws and a three-point play in transition in the paint by Proctor quickly increased the High Point lead back to seven. Proctor's subsequent basket and one just one possession later then gave the Panthers' their biggest lead of the game at 43-33.
ECU eventually cut the High Point lead to as little as three when Shawn Williams scored on a goal tending call underneath. Jayden Gardner canned a pair of free throws to keep the Pirates close at 48-45 before two more Gardner free throws cut the High Point lead to as little as one at the 3:39 mark.
Pirate baskets from K.J. Davis on a left hand drive and a Fleming layup cut the Panther lead to one with 1:01 to play before two Denny Slay free throws put High Point back up by three with 38 seconds left on the clock.
Then Proctor hit one of two from the stripe after a steal for High Point. That gave ECU the ball where Jordan Whitehead fouled Jayden Gardner where he hit just one in a 55-52 game with 18 seconds to go. Ricky Madison then fouled K.J. Davis who missed the front end of the one and one with 17 seconds on the clock.
The Pirates had a decent look at the end when Davis drove to the left side of the arc and pulled back and launched what would have been the game tying shot at the end but missed.
ECU next travels to Wilmington Tuesday night where the Pirates will take on UNC-W. Game time is at 7 o'clock.