ECU Falls in Game One in Cincinnati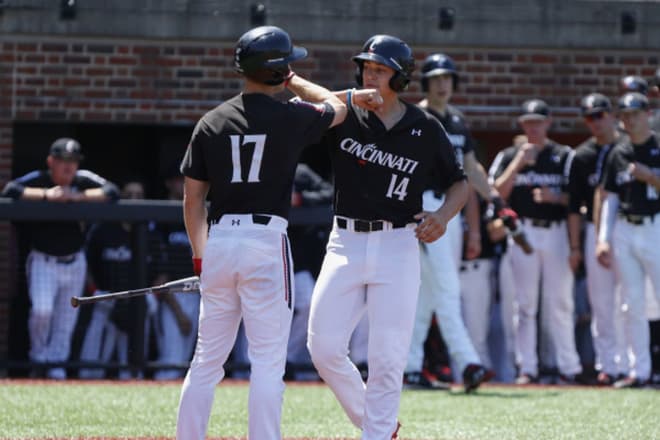 Trey Haberkorn went 2-3 with a pair of RBI and had a hand in much of Cincinnati's fortunes all along the way in the Bearcats' 8-2 win over East Carolina Friday in Marge Schott Stadium.
J.T. Perez improved to 2-5 with the victory for Cincinnati(19-19/5-5 AAC) while ECU's Trey Benton fell to fell to 3-2 with the loss as the Pirates left eleven runners stranded in their tenth straight AAC loss.
Haberkorn's single up the middle brought home Cincinnati's first run of the game in the bottom of the third. Then Ryan Noda was hit by a Trey Benton pitch with the bases loaded to give the Bearcats a 2-0 lead.
Cincinnati was at it again in the bottom of the fifth inning when a Connor McVey single to first brought Haberkorn home to extend the lead to 3-0.
Haberkorn's triple in the sixth inning brought two more Cincinnati runs home before an R.J. Thompson single to right brought Haberkorn across home plate to it 6-0 Bearcats.
The Bearcats added another run in the seventh frame on a Manny Rodriguez single with base runners on second and third that scored two more runs to extend the Cincinnati lead to 8-zip.
ECU (20-19/0-10 AAC) got a run on the board when T.J. Riles homered over the right field fence in the ninth. Charlie Yorgen then added a triple down the right field line that scored Eric Tyler to make it 8-2.