ECU Gearing Up for (18)USF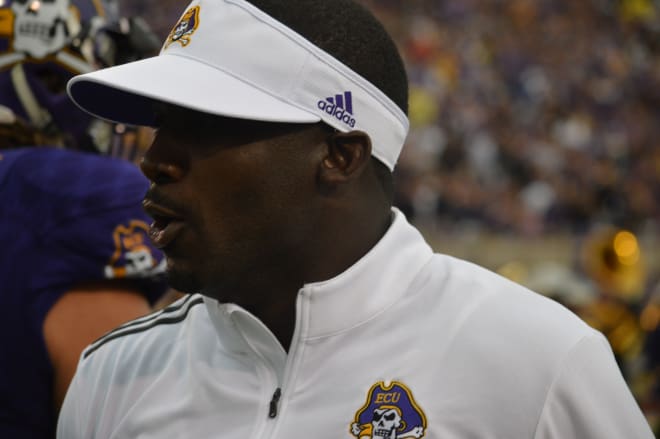 When nationally ranked South Florida invades Dowdy-Ficklen Stadium on Saturday, the Pirates will have a chance to right all wrongs.
If somehow ECU is able to get some early momentum and turn it into a victory, the Pirates would find themselves at 2-0 in American Athletic Conference play and it would send a message to the rest of the league schedule that the Pirates mean business.
Two weeks ago, Dowdy-Ficklen Stadium's volume level got quite high when the Pirates took an early lead on Virginia Tech. Scottie Montgomery hopes to duplicate that again this week in Greenville.
"I think the most important thing is when we got to third down, a lot of people didn't realize in that game, we just ran. I think we were around fifty percent on third downs," Montgomery told PirateIllustrated.com.
"If we can execute, that's where we're going to get the most energy on third down. Execution on third down offense and defense is what is going to get the crowd going and our guys are going to love it, but they're also going to have an edge coming into this game because this is one of the best teams in the country and we're looking forward to it coming off a victory."
Finding ways to bottle up the USF offense could prove to be a chore for an ECU defense that is having issues wrapping up and making tackles.
Montgomery says his team needs to do a better job of wrap and roll on tackles.
"It's a struggle to get them (USF) stopped in the running game. We got a lot of people to the ball (last week), but nobody was tackling, that's frustrating," said Montgomery.
Coach Mo says his team will have to be mindful of the Bulls in special teams play where they create a lot of space in the return game and have a veteran defense with a boat load of seniors and just one second year player in the lineup.
PirateIllustrated.com was at the Ward Sports Medicine Complex on Monday to bring you Scottie Montgomery's USF Week Monday press conference in its entirety. Stay tuned all week for continuing coverage here on PI.