ECU Gets 9-4 Win Over Duke Behind Solid Pitching from Chris Holba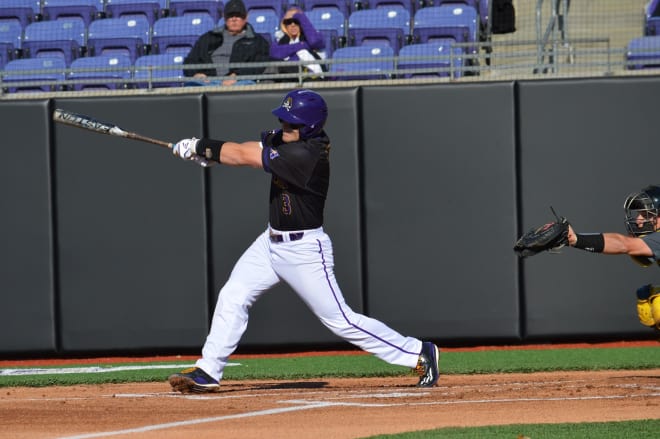 (8)ECU scored five runs in the fifth inning to erase an early 3-0 deficit and got five straight scoreless innings from Chris Holba in relief of Hunter Hood in a 9-4 win in the Durham Athletic Park on Tuesday.
With the win, Holba moved to 3-0 on the season in the Pirates' fifteenth straight victory over the Blue Devils. Karl Blum took the loss to fall to 1-1 for Duke.
"Phenomenal, down 3-0, facing a lefty that they started who is one of the better freshmen in the country on the mound. We needed a guy who could come in and throw zeros and Chris Holba came in there and wasn't mad that he didn't start," ECU coach Cliff Godwin said, "He came in and threw four or five innings of zeros and that was a momentum swing."
The Blue Devils got off to an early 1-0 on a pair of hits and a Justin Bellenger sacrifice fly to right field in the bottom of the first inning.
Duke(10-9/2-1 ACC) erupted in the second frame when Erikson Nichols singled on a blooper into right field. Michael Smiciklas doubled to left center to advance Nichols to third. Then Jimmy Herron singled to right center to score Nichols and Zack Kone's fielder's choice scored Smiciklas to give the Blue Devil's a 3-0 lead.
Chris Holba then replaced Hunter Hood and settled East Carolina down delivering a 1-2-3 inning in the bottom of the third and shutting Duke down in the fourth.
Packard singled up the middle in the fifth followed by a T.J. Riles chopper to right. Then a Dusty Baker's bunt and a high throw scored Packard. Baker then stole second and Riles stole third before a Charlie Yorgen ground out scored Riles and advanced Baker to third.
"I thought when Bryant Packard hit that single and went to first and said hey let's go, that was like the spark offensively," said Godwin, "Then T.J. hits a single from the right side and Dusty Baker safety SAC's, they don't get an out and we score a run. It kind of snowballed on them a little bit. Our guys are tough. We'll take a win and go home with it."
Karl Blum then came on to replace Stinson on the mound for the Blue Devils with one out in the top of the fifth. His first pitch was wild and scored Dusty Baker to tie the contest at 3-3. Watkins then walked and Brown advanced to second before Blum was replaced on the mound by James Ziemba.
Ziemba's wild pitch advanced the ECU runners to second and third before a Bolka grounder scored Turner Brown from third to give ECU their first lead of the game at 4-3. That moved Watkins to third where he then scored on another wild pitch in a 5-3 ballgame.
Riles then scored for East Carolina on a wild pitch from third base to add to the Pirates lead and make it 6-3.
Turner Brown singled on Nick Hendrix who came on in relief of James Ziemba for Duke in the top of the seventh frame. Brown and moved to second on a Travis Watkins ground out. Luke Bolka then laced a single to left that scored Brown to extend the East Carolina lead to 7-3.
ECU scored again on a Bryant Packard reached on boot from second baseman Max Miller. Eric Tyler scored from second base after Tyler doubled down the left field line to open the top of the eighth inning for ECU. Dusty Baker was hit by a pitch and then moved to second on a wild pitch. Then Yorgen's single to right scored Baker to make it 9-3 Pirates.
Therien reached on an error on Bryce Harmon at first in the bottom of the ninth. That scored Jalen Phillips to make it 9-4 but ECU(13-4) held on for the victory.