ECU Picks Up an 81-56 Win Over Delaware State in Dooley Era Debut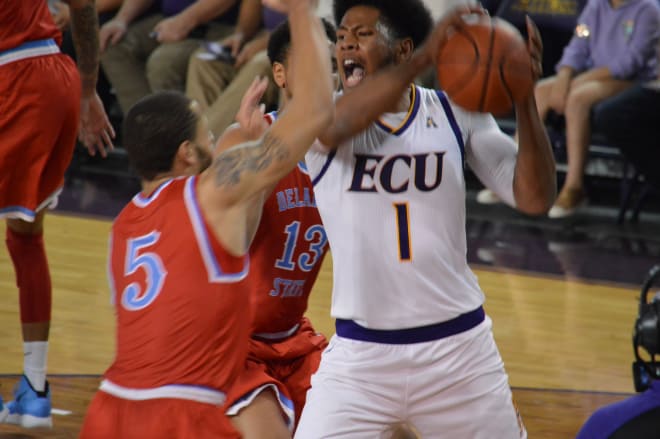 Isaac Fleming and Seth LeDay led four Pirates in double-figures in a 81-56 opening night victory over Delaware State to open the Joe Dooley era at ECU in Minges Coliseum.
Freshman guard Tae Hardy added eleven points and 6-8 freshman forward Justin Whatley had ten while DeShaun Wade scored nine points and dished out a game high five assists in the win.
"When you win it always feels great. It's a great feeling. We're starting off on the right foot and we're just trying to run with this momentum," said a relieved Fleming after the game, "This is great team basketball. You've got four players in double-figures and you can't beat that."
Local product Saleik Edwards out of nearby Winterville hasn't been scoring a lot of points for Delaware State in his time there but tossed in six treys in a game high 22 points to lead the Hornets Tuesday night.
ECU(1-0) hit 51 percent from the arc, just 43.3 overall and converted nearly 78 percent from the stripe in the win. The Pirates held the Hornets to just 33.3 percent from the floor and just 9 of 27 from the arc.
"I thought Justin and Deshaun got us off early in the first half. They made some shots. It's not very ordinary that you shoot higher from three than you do from two," said Dooley, "That's a little embarrassing almost, but I thought our three-point shots were good attempts."
Dooley did not come away totally pleased with what he saw defensively from his young Pirates as he outlined after the game.
"You don't want to making winning not fun. We did play hard. I thought there were some stretches where we were really disorganized on defense which worried me," Dooley said after the game, "For the most part I thought we had guarded ball screens very well during the preseason and tonight we had some problems, but when you look at it statistically it looks a lot better than it will look on tape."
ECU was fortunate at times that the Hornets were unable to convert several shots that looked like sure baskets.
"They had some looks and some chances at the rim that they should have converted. We've got to clean that up quickly. To our defense, I think we were a little sped up and a little nervous early in the first time playing with a lot of young guys," said Dooley, "We did some uncharacteristic things that we had not done but that being said, we'll watch the tape, hopefully these guys will get some rest tonight and we'll get back to work tomorrow and get ready for Friday."
The Pirates played without the services of last year's AAC Rookie-of-the-Year Shawn Williams who was suspended indefinitely for a violation of team rules. Freshman Tae Hardy stepped in and did a solid job and he talked about how he felt in his first game as a Pirate.
"That first game as a freshman, there were a few jitter bugs at first. I got a little time in and I was comfortable. I was in the starting lineup," Hardy said, "A couple of minutes in, I was a little shaky. As time kept going on in the game I was comfortable. It's second nature, it's basketball."
Dooley talked about the situation with Williams being lifted from the lineup and what we can expect going forward.
"We'll handle it. It's a little blip. Shawn has done about as good a job and has been about as helpful as any player since I've been here. He's been great. He's remorseful, he knows he's hurt the team. He's been a great teammate. We're excited about getting him back. He's been great in practice and when we get him back it will add another weapon for us," said Dooley who told PI, "I think we'll work through it here. I don't know it will be an extended period, but it won't be quickly. I don't think it will be a long term deal."
ECU generated 22 points off of twenty Delaware State turnovers and the Pirates got 41 of their points from their bench in what Joe Dooley indicated is a deep competitive team where there is no set starting lineup as of yet.
"There hasn't been a ton of separation from the positions. Someone starts today and they may not start on Friday based on the next two days of practice. I think that's a good thing and a bad thing," Dooley told PirateIllustrated, "Guys have competed and no one has set themselves that far away from another player that they're guaranteed a starting spot which makes practice a lot better. You flip the teams around a little bit and we haven't found our rotation and we're still trying to figure that out."
The Pirates return to action when the James Madison Dukes pay a visit to Minges Coliseum for a 7:45 tipoff this Friday night.