ECU Grabs a 76-73 Win Over Tulane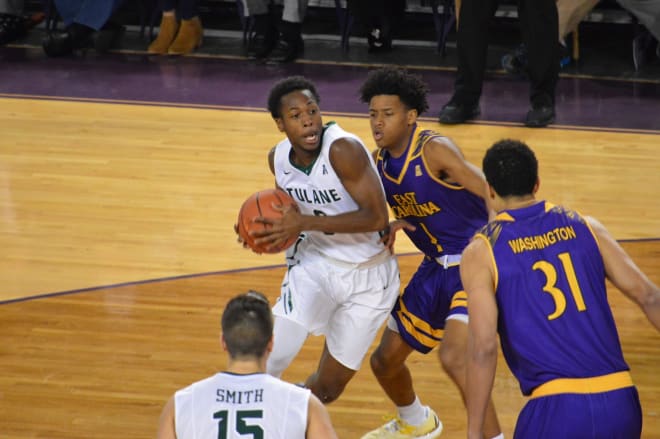 East Carolina battled back from a five-point halftime deficit behind solid second half performances from Caleb White, Kentrell Barkley and Jeremy Sheppard. The Pirates then held on down the stretch to claim their first road win of the season, 76-73 at Fogleman Arena.
Cam Reynolds misfired on a pair of three-point shot attempts and Colin Slater hit just one of two at the stripe with 8.5 seconds on the clock. Then Slater's buzzer beater from three-point land banged off the rim to seal the ECU victory.
White, who was held scoreless at intermission, tossed in ten quick points in the first four minutes of the second half and ended up with 17 as did Kentrell Barkley who got hot late in the game. Sheppard added 16 and Andre Washington paid dividends with 11 points, eight rebounds and seven blocked shots to dominate the paint for East Carolina(13-15/5-10 AAC).
"Barkley had a six or eight point run, himself late in the game that really opened it up and gave us some breathing room. He's really good in transition," said ECU acting head coach Michael Perry.
Tulane(5-22/2-13 AAC) got a strong performance from Cam Reynolds who scored 16 against ECU in Greenville. Reynolds tossed in a game high 22 points Tuesday night while Melvin Frazier scored 19 and Malik Morgan added 12 points to go along with 11 rebounds for the Green Wave.
The two teams exchanged baskets in the first twelve minutes of the first half with Melvin Frazier scoring seven points and Cam Reynolds adding five for Tulane.
Tulane scored 13 of their first half points off of ten ECU turnovers and opened as much as an eight-point 27-19 cushion. That was largely fueled by a pair of Malik Morgan baskets. Morgan had seven rebounds all told in the first half as the Green Wave held a 34-29 lead at the break.
"We had challenged the whole team because we had ten turnovers at halftime. We told them that we need to up our game in terms of the fundamentals and the details. That was going to be really important. We thought if we could really dial into that we could have a chance," Perry said.
Reynolds had ten points and Melvin Frazier scored seven first half points to lead Tulane. ECU got seven each from Sheppard, Washington and Tyson. Andre Washington swatted away four Tulane shot attempts in the paint in the first twenty minutes. Meanwhile, the combined tandem of Kentrell Barkley and Caleb White generated just four points in the first half.
White quickly generated ten points in the first four minutes of the second half, but the closest ECU could come at the 14 minute mark was 49-42.
ECU finally roared back on three straight Kentrell Barkley baskets and a Jeremy Sheppard fast break bucket to gave the Pirates a 52-49 lead with just under twelve minutes to play.
Reynolds and Frazier kept the Green Wave close at 63-59 at the seven minute mark. Frazier then tied the game for Tulane at 63-63 with 5:55 remaining.
Sheppard and White both hit big baskets to keep ECU in front 72-66 with 3:19 to go before buckets from Colin Slater and Melvin Frazier cut the ECU lead back to three.
But two missed free throws from Melvin Frazier for Tulane and an Andre Washington free throw at the other end with 31 seconds to play had the Pirates up by three.
B.J Tyson fouled Colin Slater with 8.5 seconds in regulation after a pair of missed three-point attempts from Cam Reynolds. Slater hit the second of two and then fouled Kentrell Barkley on the inbounds play with 6.9 seconds on the clock where he connected on one of two. Colin Slater's three-point attempt at the buzzer clanked off the rim to seal the ECU victory.
Perry talked about not calling a time out with his team at the free throw line late in the game that would have given Mike Dunleavy and Tulane an opportunity to set up a play for the final possession.
"I'm just not a big fan of that, letting them set something up. I like for them to have to try to manufacture a shot on the run on the scramble. Sometimes teams have something set up for those situations and it appeared that they did. They got a good shot off," Perry said, "When the guy drove into the paint, we were thinking about rebounding and then he throws it out for a three. Again, that's youth and we're going to get better."
ECU hit 48 percent from the field and connected on 13 of 19 from the charity stripe to go along with solid 7 of 15 shooting from the arc in the victory.
ECU committed just four second half turnovers and that proved big in the Pirates' first conference road win of the season.