ECU Looks to Right the Ship This Saturday at 4-1 South Florida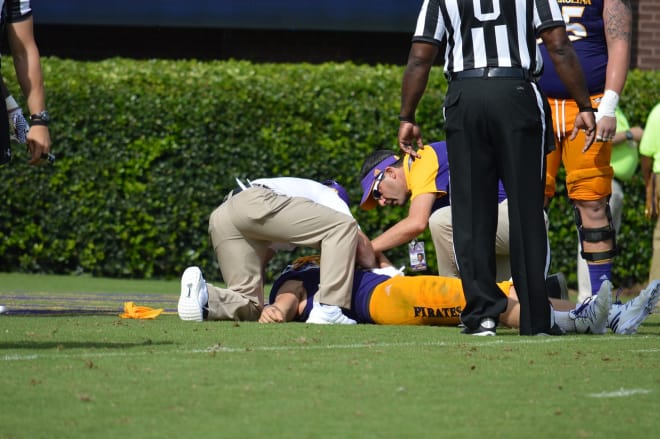 This week East Carolina travels to Tampa to take on a very improved South Florida team who enters this week's game at 4-1 after a 45-20 win over Cincinnati in their first AAC contest of the season.
The Pirates have lost their last three straight games on turnovers, bad special teams play and an inability to find ways to score in the red zone. Shoring up some of those issues will be paramount if ECU(2-3/0-1) is to turn their season around.
"We felt like our defense got off to a good start in the game. We give a lot of credit to UCF for winning the football game. Unfortunately our offense did not. Once we did get the momentum, it was quickly shifted by a special teams kickoff return for a touchdown," Scottie Montgomery said on Monday, "Actually both times we grabbed momentum in the game, UCF responded with a touchdown or a major play in the game."
Montgomery attributed the turnover situation to guys who were playing for the first time in their respective positions as a starter.
"We knew that we would have some growing pains. We didn't think the growing pains would last this long or they would be this many. Deondre Farrier is a guy who we have the utmost respect in the way he's practiced up to this point and played. We have to continue to grow him and understand that he has to take care of the football in the red zone but we do think he is talented."
The first year ECU coach is going through some growing pains of his own in getting the little things to go right with this team.
"As I looked at the game, I was frustrated with a lot of the things that went on because I hadn't seen the tape but I was able to look at the numbers that jumped off the stat sheet at me of course was the reason why the game was not won was our turnovers. Five turnovers to our two turnovers that our defense did a good job of creating," said Montgomery, "The penalty discipline that we talk to our team about all the time, you wouldn't think you'd lose a football game when you only have two penalties for fifteen yards and your opponent has ten for 92 or you out gain your opponent roughly 520 to 370. I think our lack of success in the red zone is directly connected to turning the football over."
The Pirates are optimistic that Philip Nelson at quarterback and Corey Seargent at cornerback will be able to go this week. Montgomery says both responded well to treatment on Sunday so we'll have to see how they progress this week.
South Florida's only loss this season was a 55-35 setback at home to Florida State who is currently ranked 13th in the country. The Bulls are averaging 492 yards and nearly 46 points a game on offense.
Their 251 yards per game on the ground begins with Marlon Mack who is averaging 83 yards a game. Quarterback Quint0n Flowers is right at 76.6 yards a game on the ground and 214 yards through the air. Rodney Adams has 18 catches for 303 yards this season to lead USF's receiver corp.
There is nobody new on the injury list for this week's game despite several leaving the game last week including Pat Green, Philip Nelson and Corey Seargent.
ECU has made a couple of changes in the starting lineup on the offensive line with Justin Sandifer taking over at left tackle and Christian Matau set to start at right guard. Matau will also yield to Kyle Erikson in the backup center position to focus more his attention to playing guard this week.
Otherwise the lineup looks the same as last week. It remains to be seen if Philip Nelson will be ready to go on Saturday after getting clobbered last week in the UCF game, but he is listed as this week's starter at quarterback. The Pirates burned Gardner Minshew's red shirt on Saturday when he replaced Nelson after he went out after several hard hits.
Montgomery addressed the press from Ward Building on the campus of East Carolina University and PirateIllustrated.com was there to bring you the very latest from Greenville.