ECU Optimistic About New Season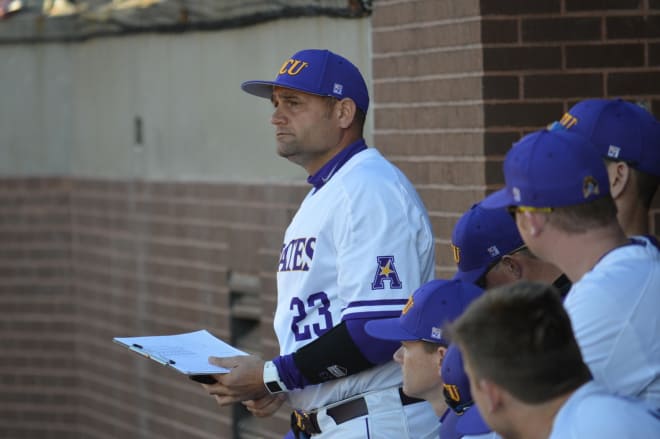 The Pirates return 20 players from last year's team, including 2016 Freshman All-American Williams-Sutton, 2017 Freshman All-American Spencer Brickhouse, 2017 AAC All-Tournament Team selection Jake Agnos, weekend starters Trey Benton and Chris Holba, as well is shortstop Turner Brown.
Also included are 15 newcomers, which features eight position players, seven pitchers and one two-way player.
The Pirates open their 83rd season of play with a three game series at home against Western Carolina that begins on Friday February 16th at 4 o'clock.
After a road tilt at Campbell, ECU takes on North Carolina in three different venues beginning with a home tilt on Friday February 23 in Clark-LeClair Stadium before hitting the road to take on the Tar Heels in Durham and the following day in Chapel Hill.
ECU then closes out the month of February with Old Dominion on the 28th in Clark-LeClair Stadium in the midweek before taking on Pepperdine, Missouri State and St. Joseph's in the Keith LeClair Classic on March 2, 3 and 4.
A two-game home series with the College of Charleston precedes a three game series at Charlotte. Home tilts with VCU, Elon and a three-game set against Maryland leads to a March 21 game at UNC-Wilmington before the Pirates begin conference play at UCF with a three game series beginning on March 23 in Orlando.
The Pirates host Wichita State to open home play in the AAC on March 29.
With the new baseball season just around the corner, ECU head coach Cliff Godwin and his team met with the press to discuss the upcoming campaign.
"Going back to the fall it has been a really good offseason. The guys have had a lot of intent, a lot of energy and have focused on being a better version of themselves every day," Godwin said, "We're a much closer knit group this year than we have ever been so it will be a fun group to watch."
Pitching coach Dan Roszel comes in optimistic for this season with a lot of pitching options for this year's team. This group of pitchers compares to some of the teams of old at ECU.
"I've gone back to the 2011 season where we had a really good group of guys. It just seems like it's similar in a lot of ways because there was pitchability," Roszel said, "They were going to throw strikes on multiple pitches, but there was also stuff. There were guys with Manass, Wright and Armstrong and Mincy. It wasn't just one pitch, it was multiple pitches. It's been a while since we had that many guys like this year, it's multiple pitches. They're pounding the strike zone with those pitches and it's not just the fast ball that's good, it's either the curve ball, change up or the slider where it does give us more options."
"There's different looks. There are shorter right handers. We've got some guys who are dropping down a little bit. You've got big 6-6 Gavin Williams to even Sam Lanier. He's only 6-foot but there is power stuff behind it."
Spencer Brickhouse returns at first base and he is fired up about the upcoming season and is keeping his mind in the present tense.
"I don't use last year as motivation at all. I pretty much take every day one day at a time. I can't sit around worrying about last year because it's over, " Brickhouse said, "I can't worry about tomorrow. The only thing I can control is what happens right now. That's what Coach Godwin's aspect right now. We have to worry about every day like it's the last day we're ever going to play baseball."
"We have a lot of guys who are on the same page right now in that perspective in that aspect of baseball and I think that's really what's helped us out a lot. We've had a much better chemistry with the group and we have a lot better mindset. The worry about everything that we cannot control has gone out the window."
Turner Brown talked about some of the things he has been doing differently to prepare for this season.
"We've talked about it a lot, just staying aware of everybody. That's one thing I took to heart. I just wanted to stay aware and make sure that everybody came to practice ready to go," said Brown, "Just make sure everybody is doing what they're supposed to do. I just wanted to take it upon myself to build leaders among the whole team."
The Pirates open the season at home on Friday February 16 against Western Carolina at 4 p.m.
Catch PI Audio coaches and player interviews from East Carolina media day here on PirateIllustrated.com.