ECU Earns a 2-1 Win Over (6)UNC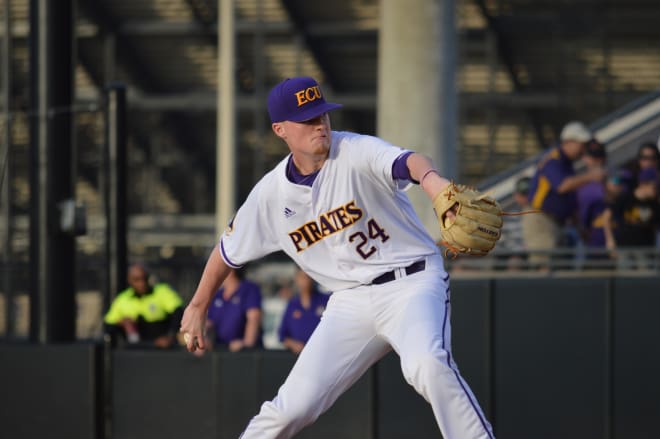 ECU scored a pair of runs in the second and held on to pick up a 2-1 victory over North Carolina in Clark-LeClair Stadium in front of the third largest home crowd in Clark-LeClair Stadium history of 5,382 Friday night.
Chandler Jenkins, Connor Litton and Drew Henrickson all has a pair of hits. Henrickson and Litton combined for a pair of RBI that in the end was the difference in the ballgame in ECU's fifth straight win to open the season.
"This is Friday night's in The American where you have two pitchers going at it. Dalatri is one of the best pitchers in the country. Trey Benton is one of the best pitchers in the country. Two guys out there and it was really hard to score tonight," Cliff Godwin said after the game, "Tyler Smith came in and did a great job as well."
"Pitching and defense for both sides. We were just able to score one more run than they did," said Godwin, "I didn't feel like it was under control until they made that last out in the ninth but I'm happy for our kids because they've worked their butts off. I thought we played a little bit better than they did but sometimes that doesn't equal wins and I'm just glad we came out on top."
The Pirates struck first in the second inning with a pair of runs when Connor Litton's ground out to second base allowed Jake Washer to score. Then Drew Henrickson singled to right to bring home Chandler Jenkins.
In the top of the third frame, Ike Freeman's sacrifice fly brought Dylan Enwiller across home plate to cut the ECU lead to 2-1.
Trey Benton picked up the win for the ECU(5-0) to move to 2-0, going six innings and giving up one run on a pair of hits. Benton struck out eleven before Tyler Smith came on late to close it down for the Pirates for the last three innings.
"I think he got better as the game went on. With eleven punch outs in six innings, that's big time stuff."
"This week me and Coach Roszel really worked on me off speed pitch, making it more sharp each week and trying to progress each outing," Benton said, "Tonight I felt like I had those finishing pitches there and I think that came up big in the end. When that thing is working like it should I think I get a lot of swing and misses. When that's on that's when it's at its best."
Gianluca Dalatri fell to 0-2 with the loss for the North Carolina(2-4). Dalatri gave up 11 hits and a pair of runs to go along with seven strikeouts.
The Pirates and Tar Heels meet again on Saturday at Durham Athletic Park at 6 o'clock before the two teams head to Chapel Hill for a 1 p.m. game on Sunday.
PI PHOTO GALLERY: ECU 2 (6)UNC 1