ECU Pounds St. Joseph's 9-0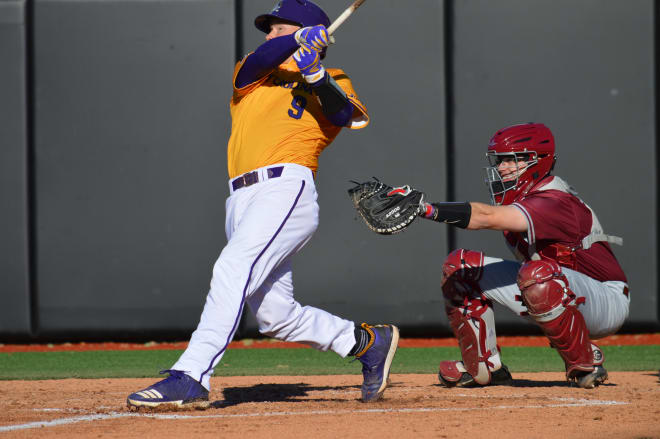 Bryant Packard's three run shot and Seth Caddell's first homer as a Pirate keyed ECU's 9-0 Sunday win over St. Joe's on the final day of the 15th annual Keith LeClair Classic in Clark-LeClair Stadium.
Packard led the ECU offense with three hits and starting pitcher Chris Holba(3-0) gave up just three hits and threw eight strikeouts in seven innings of work to pick up the victory. Cam Colmore came on in the eighth frame in relief for the Pirates.
St. Joseph's right hander Justin Aungst fell to 0-2 on the season with the loss for St. Joseph's.
Cliff Godwin was complementary of Holba's work on the mound on Sunday in picking up a much needed win after a pair of untimely ECU losses on Friday and Saturday.
"When you can go out out there on Sunday and your bullpen is a little bit thinner than on Friday and Saturday and give you seven strong and give the offense breathing room to go out there and do their thing, I thought he was outstanding," Cliff Godwin said afterward."
"The key is he just throws three pitches for strikes, has movement on his fastball and just keeps hitters off balance and gets the infielders ground balls."
Left fielder Bryant Packard moved to the leadoff position on Sunday, going 3 for 4 with a homer and four RBI on Sunday.
" I thought Packard did awesome," said Godwin, "The three-run jack was big to extend the lead late."
Godwin talked about moving Turner Brown into the two slot of the batting order for ECU on Sunday.
"I just wanted to get Turner into the two hole. I thought Turner has been just a little bit more passive at the plate trying to be a leadoff guy and I told him today that I don't want him to be a leadoff guy. I want him to swing the bat like he always has," said Godwin.
ECU(8-3) scored three runs in the bottom of the third on a single from Brown along with a Spencer Brickhouse double and a fielder's choice from Chandler Jenkins that brought Brickhouse home for a run.
In the bottom of the sixth, Seth Caddell launched his first ECU home run deep into the left centerfield jungle off of St. Joe's right hander Justin Aungst to expand the East Carolina lead to 4-0.
Bryant Packard's RBI double off the left field wall then brought Drew Henrickson home as the ECU lead grew to 5-0.
ECU was at it again offensively in the seventh when a Nick Barber single to center brought Jake Washer in for a run. Then Packard's three-run bomb broke the game wide open to put the Pirates up by a touchdown and a field goal.