ECU Pounds Washington 7-2 to Take Weekend Series in Seattle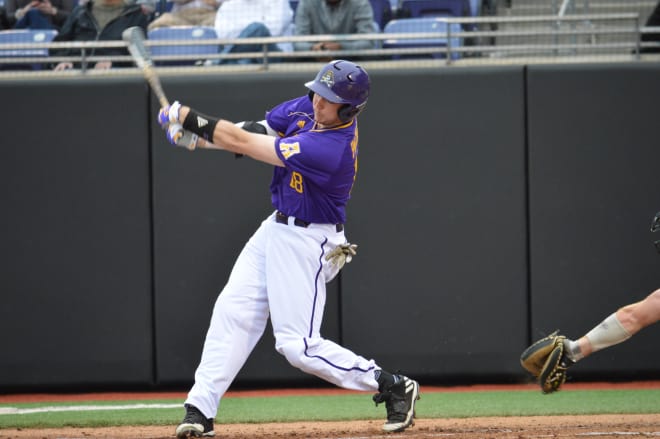 Two Bryant Packard home runs and a two-run bomb from Jake Washer highlighted (11)ECU's 7-2 game three win over Washington at Husky Ballpark Saturday afternoon.
With the victory, the Pirates take the weekend series two games to one and improve to 24-7 on the season.
Tyler Smith(5-0) lasted 107 pitches and gave up just one run on three hits in seven complete innings to pick up the win for the Pirates. Jordan Jones fell to 3-3 with the loss for Washington.
Things remained quiet in the rubber match between these two teams until the bottom of the fourth inning when a Willie McIver single to third base produced a run when Levi Jordan crossed home plate to give Washington a 1-0 lead.
Starting right-hander Jordan Jones lasted five and two-thirds for Washington(14-14), giving up four runs on six hits with a pair of strikeouts in 67 pitches.
ECU got into the act in the top of the fifth when Packard knocked his fifth home run of the season on a three run shot to right off of Washington right-hander Jordan Jones that gave the Pirates a 3-1 lead.
Drew Henrickson added to the Pirate lead to make it 4-1 when his base knock in the sixth brought Spencer Brickhouse across home plate.
Packard, who went 4-5 on the day with four RBI, was at it again in the bottom of the eighth when he knocked his second home run of the day for his sixth home run of the season as the ECU lead grew to 5-1. Then Jake Washer got into the act later in the eighth with a two-run homer to left that put the Pirates up by six runs at 7-1.
The Diamond Dogs loaded the bases with no outs in the bottom of the eighth on ECU reliever Gavin Williams before ECU left-hander Ryan Ross came into the game to limit the damage for ECU when Mason Cerillo's sac fly to centerfield scored a run in a 7-2 contest.
The Pirates return to action on Wednesday when they travel to Elon to take on the Phoenix at Latham Park. Game time is at 6 o'clock.