ECU Prevails 41-38 Over UConn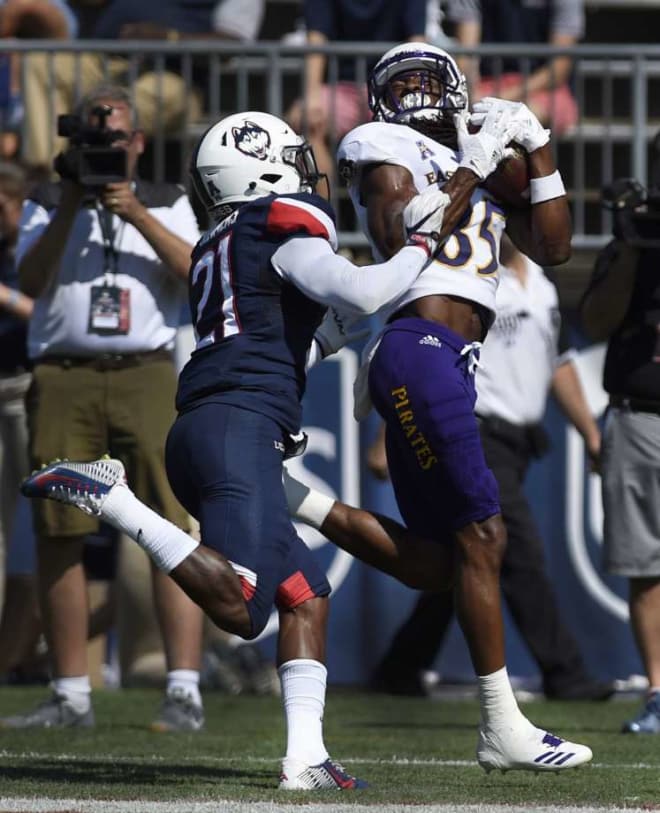 Michael Tarbutt's pushed a 33-yard field goal attempt to the right as time expired and spoiled what was a furious Huskie comeback and ECU held on to win a 41-38 nail biter over UConn Sunday afternoon in Hartford.
With the victory, ECU snapped a seven game losing skid. The Pirates have now won two games in their last thirteen attempts and this was the first victory since last October when the Pirates beat this same UConn team in Greenville.
UConn scored 17 unanswered points down the stretch, of a game that ECU seemingly had under control, to make a real contest of it in the closing six minutes of the game, but Michael Tarbutt's 33-yard field goal attempt was just wide right of tying the game at the end sealing the victory for ECU.
ECU wide receiver Davon Grayson scored a pair of first half touchdowns and then scored again on a 75-yard strike to open the second half in the win. The Pirates scored on their first five possessions of the game. Overall, Grayson caught a personal record eleven passes for 233 yards and three touchdowns to lead ECU. Quarterback Thomas Sirk went 30 of 39 through the air for 426 yards and three touchdown passes and played interception free football.
"It was good to see us come out inspired on offense and get a spark back today and we'll go and assess the tape and see if we can get better before we play South Florida," Sirk said, "We had a curve ball thrown at us when Jimmy (Williams) went out before the game, but that's the nature of football. Guys step up and do what they're supposed to do."
Both teams ended up with an identical 596 yards of total offense in what will prove to be a memorable shootout at The Rent in Hartford.
"We're 1-0 in the conference. That's exactly where we said we wanted to be. It's good. It was a little bit of a different week. We got thrown a some different blows," ECU head coach Scottie Montgomery said, "I thought we were going to have (safety) Tim (Irvin) available and Tim wasn't available. Then we get out here and get a good mood going and Jimmy (Williams) gets sick and we lose Jimmy for the game, but our guys persevered early."
"I feel like I'm five years older. There's no question about it. We were throwing so many different deals at them on defense and they were just finding so many good spots. Then offensively, I wanted to take care of the football," said Montgomery, "I gave a little bit too much of the responsibility to Thomas to check in and check out of some plays, but I thought we were running the ball effectively and we had found a few things that worked. It was a little bit stressful at the end but that's good. You've got to get a tough one before you get an easy one."
After stopping UConn's first drive of the game, Thomas Sirk's 17-yard touchdown pass to Davon Grayson into the left corner of the end zone put the Pirates up 7-0 four minutes into the first quarter.
UConn came right back with a 75-yard drive in 1:22 capped off by a 45-yard strike from Bryant Sherreffs to Mason Donaldson with just under nine minutes to go in the first period. It was Donaldson's first catch of the season and it tied the game at 7-7.
Grayson then struck again on Sirk's second touchdown pass of the game, this time for 24 yards to give ECU a 14-7 lead with just under six minutes left in the period.
ECU kept the momentum going when Clemson transfer Korrin Wiggins picked off a Sherreffs pass to put the Pirates in business at the Husky 36-yard line. That led to a six-yard Derrell Scott touchdown run to extend the lead to 21-7.
Two Jake Verity's field goals of 46 and 26 yards made it 27-7 Pirates with 5:51 to go in the half.
But Connecticut struck back with 1:52 to go in second quarter on a one-yard Nate Hopkins touchdown plunge. The 14-play, 75-yard drive to trimmed the ECU lead to 27-14 going into the locker room.
The Pirates held a 311 to 119 advantage in total yards and a 19:40 to 8:30 time of possession margin in the first two quarters on 19 ECU first downs. Sirk went 19 of 25 for 217 yards through the air and had two touchdown passes in the first half. ECU ran 51 plays to just 23 for UConn in the first two periods.
ECU picked up where they left off with a 75-yard Davon Grayson pass reception for his third touchdown of the day on the very first play of the second half to give the Pirates a twenty point lead. But just over two minutes later, Donaldson's second touchdown catch of the game highlighted a 75-yard drive to keep the Huskies within reach of the Pirates at 34-21.
Thomas Sirk's 45-yard flea flicker on a pitch from Hussein Howe was caught by Davon Grayson before a subsequent Grayson catch led to a 14-yard Howe touchdown run and a 41-21 ECU lead. But Arkeel Newsome's eight-yard touchdown kept the Huskies within striking distance at 41-28 in what turned into a shootout.
Three straight ECU penalties gave UConn the football back and a pass interference penalty on Pirate defensive back Marcus Holton led to a 16-yard Nate Hopkins gash up the middle to the seven yard line. The Huskies were then able to convert a 20-yard Mike Turbutt field goal that got UConn back within ten at 41-31.
Jake Verity's missed field goal attempt gave UConn a much needed stop with 6:07 remaining where Arkeel Newsome then took a flair pass to the right 79 yards to the house to cut the ECU lead to just three at 41-38.
On third down and three with 3:10 to play, ECU came up three yards short on a Derrell Scott sweep around left end that gave UConn the football, but they were unable to convert the 33-yard field goal attempt as time ran out on the scoreboard. A five-yard reception to Newsome was compounded by a 15-yard penalty by Cannon Gibbs for body slamming Newsome to the ground after the whistle.
"If we eliminate the last two or three penalties right there in a row. I don't know about the last penalty where we just tackled the guy, I thought and put them in a good position, but allegedly they thought that one was excessive," Montgomery said.
With the victory, ECU moves to 1-0 in AAC play and 1-3 overall while UConn falls to 1-2 overall and 0-1 in conference play.