ECU Rallies For a 72-69 Victory Over Cleveland State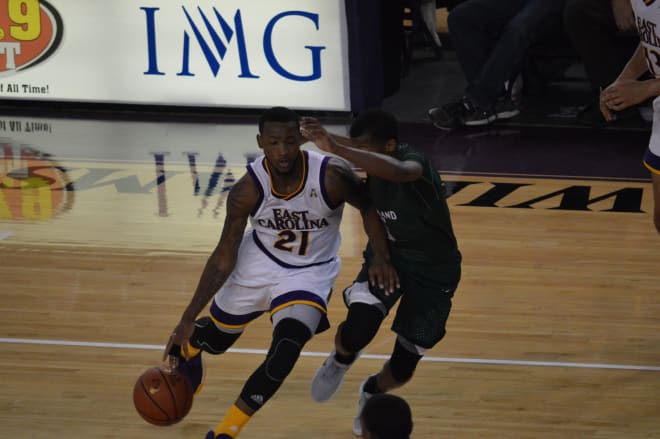 GREENVILLE, N.C. - B.J. Tyson put the Pirates on his back and tossed in 25 points while Kentrell Barkley added ten of his 14 points in the second half to help lead ECU to a 72-69 comeback win over Cleveland State Monday night in Minges Coliseum.
Tyson's 25 points was one off of his career high and moved him to seventh place all time in AAC scoring. Issac Fleming added a career high eleven assists to go along with eight points for the Pirates who moved to 2-2 with the victory.
"It feels amazing. We're going to celebrate this one really well. I love my brothers, especially Isaac (Fleming) right here who is going through a slump right now and I'm telling him to keep his head in it because he's our point guard," Tyson said.
"B.J. was terrific. He made some big, big shots for us coming down the stretch. We made a change late putting him on Appleby whose speed and quickness really hurt us and I thought he did a terrific job," said ECU head coach Jeff Lebo.
"Kentrell made some big plays and Isaac finally got going at the end. We've got to get him and Shawn (Williams) going. They're better players than what they've shown so far but they haven't played so they've got to get back, get some rhythm and they've got to help us," Lebo said, "We can't just rely on these two guys this year with what we've lost the last five months with our roster."
Bobby Word scored 17 points to lead three Vikings in double-figures including Tyree Appleby who scored 15 to go along with 14 from Stefan Kenic.
The Pirates snatched victory from the jaws of defeat on 52 percent shooting from the floor and 17 points off of 15 Cleveland State turnovers to make up for woeful 11 of 25 shooting from the charity stripe and 17 turnovers.
"It was an interesting game. I'm proud of our guys for finding a way to win. I don't know how sometimes, but I thought we battled hard. It was a game of runs. Our free throw shooting led to the demise that we had," Lebo said, "We had so many opportunities on the free throw line. 11 of 25, that's just not very good at all and they shoot 15 of 18 from the line. That was really the biggest difference in the game."
"The kids have been working hard," Lebo told PirateIllustrated.com, "They've been hit with a bunch of gut punches with some roster deals and it's been hard on those guys. It's good to get rewarded for their hard work and staying together late in the game. Good to win at home after two disappointing losses at home."
ECU got off to another slow start. The Vikings jumped out to a quick nine point lead before a pair of Pirate dunks from Jabari Craig and B.J. Tyson cut the lead to 13-6.
Cleveland State lead grew to a 25-15 lead on a Bobby Word drive with 8:20 to play in the first half. But ECU stepped it up over the course of the next two minutes and went on a 10-0 run to tie the game at 25-25 on a Dimitri Spasojevic basket.
ECU then took their first lead of the game on a Tyson's twelfth point of the half off a feed from Fleming with 3:49 to go before the break. Spasojevic's half hook in the lane kept the Pirates up by one point at intermission at 33-32. Bobby Word had nine points in the first twenty minutes to lead Cleveland State.
The Pirates connected on 52 percent of their shots in the first twenty minutes on 13 of 25 shooting while limiting the Vikings to just 40 percent on 12 of 30 shooting.
Four Kentrell Barkley baskets and three from B.J. Tyson expanded the ECU lead to eleven in the early going of the second half. But as fast as the Pirates built a lead, the Vikings made it completely evaporate on baskets from Tyree Appleby, Dontel Highsmith, Bobby Word and Jamarcus Hairston to tie the game at 53-53.
ECU's inability to score on their end of the floor combined with Cleveland State's propensity to draw fouls, get to the free throw line and score made for a bad combination for the Pirates down the stretch.
Stefan Kenic's three-point bomb put the Vikings up by seven while ECU went cold from the field. Two Fleming free throws cut the lead to four at 69-65 with 1:11 to play. Then Tyson forced a Viking turnover and then converted a trey with just 54 seconds to play to cut the lead one at 69-68. But Appleby's foot hit the sideline against the ECU press to turn the ball over and Isaac Fleming's three-point drive gave ECU a 71-69 lead with 29 seconds to go..
Cleveland State's Bobby Word's runner in the lane clanked out of bounds with 6.8 seconds to play. The Vikings fouled Shawn Williams on the inbounds play who hit one of two from the stripe to extend the ECU lead to three at 72-69 with 5.4 seconds remaining and the Pirates held on to take the victory.
Jeff Lebo's Cleveland State Post game Press Conference