ECU Rallies to Beat Campbell 12-7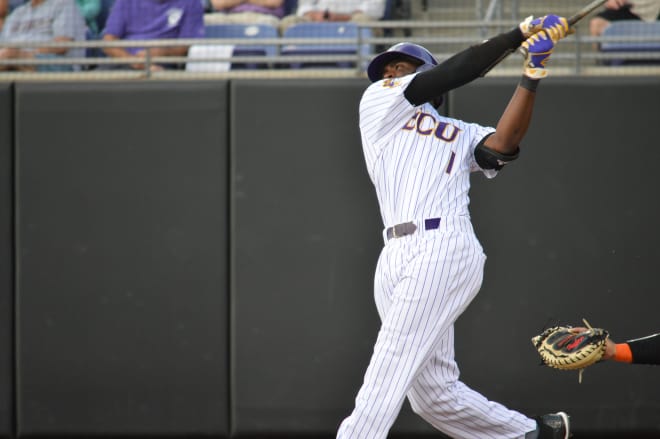 Campbell's six run sixth inning erased a 3-1 deficit and briefly gave the Camels to a 7-3 lead,. but (9)ECU struck back with six runs in the bottom of the sixth and three more in the seventh and went on to pick up a 12-7 win Tuesday night in the final home regular season game in Clark-LeClair Stadium.
Dwanya Williams-Sutton went four for four including a pair of home runs and four RBI to lead ECU. Bryant Packard added three hits in his five plate appearances and tied Stephen Batts' 2007 record by getting a base hit in his 29th straight contest. Spencer Brickhouse pushed his on-base streak to 21 games and logged his 15th multi-hit game of the year.
Evan Voliva picked up his first win of the season in his first apprarance in 14 months after Tommy John surgery. Voliva gave up just one hit in two and a third innings of relief of senior West Covington who got his first start of the season. Covington yielded just two hits in three innings of work with a pair of strikeouts.
Seven pitchers saw action for ECU all told including Covington, Willy Strong, Jake Kuchmaner, Sam Lanier, Zach Barnes, Cam Colmore and Voliva who talked about his return to the mound for the Pirates.
"What's it been fourteen months now? Words can't even describe it to get out here in front of these great fans. To come out here and have my teammate have my back making all of those plays," said Voliva, "Then putting some runs up, it's awesome. I'm just glad to be back."
Logan Bender(4-1) absorbed his first loss of the season in just one inning of work for Campbell in what was the Camels' fifth straight loss to the Pirates.
"It's not how you draw it up but it's good to see our guys continue to respond when they have adversity. I'm just really proud of the entire team," Cliff Godwin said, "I thought Covey had a great start for us. Nobody deserves success more. What he's done for our program for three years, not just on the field but in the dugout and in the classroom. Great ambassador for East Carolina athletics, not just our baseball program."
"I thought Willy Strong threw some very good pitches and had a quality two innings for us. What Evan Voliva did the first time out in the situation that I put him in, said Godwin, 'I've always thought Voliva could handle some pressure so I put him in a pressure situation and he just kept it going out there putting zeros up there. He's been waiting to get his name called and I can tell you he will be getting his name called again. Cam Colmore, a great job of finishing the game on the mound."
The Pirates got it going offensively and Godwin had high praise for the effort of his team at the plate Tuesday night.
"Dwanya had a huge night. We don't win the game without Dwanya tonight, I mean four RBI's, but Packard had some tough at-bats and when you see him hustling into second base putting pressure on the defense. Brickhouse had some tough at-bats, Brady Lloyd, a big at-bat over the right fielder's head when we were down four in the sixth. Just a lot of quality at-bats up and down the lineup when you're stringing them together and the base running was phenomenal tonight."
HOW IT HAPPENED
The Pirates got an early two run homer over the right field wall from Dwanya Williams-Sutton to give the Pirates a 2-0 lead.
In the fourth inning Zach Minnick RBI grounder brought Jeff Hahs home to get Campbell(29-22/19-5 Big South) on the scoreboard and cut the ECU lead to 2-1.
ECU(38-13/13-8 AAC) was at it again in the bottom of the fourth frame scoring another run when Nick Barber bunted Drew Henrickson home and the Pirate lead expanded to 3-1.
But in the top of the sixth inning, Christian Jones' three-run home run to right off of ECU reliever Jake Kuchmaner and Kyle Mehil's bunt that allowed Zach Minnick to score gave the Camels their first lead of the evening at 5-3. Zach Barnes walked Bryce Myers with the bases loaded to score another Campbell run to make it 6-3 before Matt Barefoot's sac fly to right put Campbell up 7-3.
Jeremy Whitehead got a sixth inning rally started for ECU when his RBI ground out brought Drew Henrickson over home plate to trim the Campbell lead three. Then Turner Brown reached on a fielder's choice and Brady Lloyd scored before both Turner Brown and Packard scored on a pair of wild pitchs from Logan Bender that tied the contest at 7-7.
To make matters worse for the Camels, Spencer Brickhouse doubled to centerfield off of Camel left-hander Andrew Witczak, bringing Sutton home as ECU reclaimed the lead at 8-7. Connor Litton added a run when his RBI pop fly let Spencer Brickhouse score to put the Pirates up by two.
ECU then scored three runs in the seventh when Packard's base hit to right scored Turner Brown and Dwanya Williams-Sutton's second homer of the game scored two more runs to put the Pirates up 12-7.